Teaching Large English Classes
By Bridge
December 22, 2010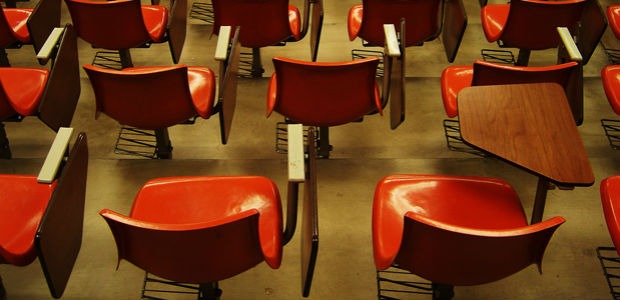 This post was written by Laura Greenwood
First day of ESL class scenario: Walk in and 50 students are staring at me! OMG!
As many of you have experienced, the meaning of large varies around the globe and the reality is, English classes of 30-70 students is the norm in many parts of the world.
What is a large class and how best do you teach a class with 30+ ELLs (English Language Learners)?
First and foremost as I said above, large is in the eye of the beholder. To a teacher who normally has 7-15 students, a group of 25 students seems like a large number. Be prepared and know the number you are expected to teach. Institutes and public schools will have a good understanding of class size, so ask!
I believe that classroom management affects what happens in the classroom, both the input and the output! So let's get started on some general strategies.
Classroom Management
External Factors:
The physical design of the room has to allow for movement and collaborative work
Reduce clutter and unnecessary furniture
Keep supplies in a moveable (if available) storage unit that can be placed just outside of the classroom while the room is in use and rolled back in when locking up for the day
Let Ss (students) be responsible for the physical management of the classroom, assign teams to be responsible for specific tasks and rotate both teams and tasks
Use a seating chart, group chart(s), take attendance at first and then let Ss manage that task also
If possible have 'office' hours and assign group time for visitations.
Internal Factors:
Develop an atmosphere of personalization and individuality
Get to know your ELLs' personalities, occupations (for adults), motivation, educational backgrounds (it's likely you will have some difference within a proficiency level in a large class), and learning styles to name a few
Let your Ss know who you are, be approachable, tell them you own experiences with learning
Use name tags, take photos of your Ss, call on Ss by names, ask Ss to interview a peer and create a student profile that is hung in the classroom (everyone benefits)
Ask Ss to collaborate on a 'Bill of Rights' for behavior the classroom and make the Ss accountable to each other for these 'rights'
Hold 'advising sessions' to give you and Ss a snapshot of their individual progress
Create a community atmosphere where everyone has something to learn and teach
Get your Ss to buy into the fact that teaching and learning is a partnership and that they are an equal part of the equation
Model and encourage 'learning ownership'
Teach through eliciting and prompting questions, brainstorming, problem solving (many heads are better than one), critical thinking, the 'think, pair/group, share' technique, role plays, and simulations
Let Ss lead seminars (you facilitate), prepare team reports and projects
Model and encourage teacher and peer feedback to tasks, what worked and how to make what didn't work  next time
Set contexts for new language learning and activate Ss' background schema to successfully set them up for that day's learning
Move around the classroom and teach from all locations and engage all Ss in eye contact
Scaffold learning
Give the course an outline that covers topics and syllabus that lays out expectations, attendance policies, testing procedures, and a grading rubric
Use a portfolio and journaling as additional assessment tools.
Oh my gosh, I could keep going! I suggest reading some the articles below for specific 'how tos.'
Teaching Large Classes, University of Wisconsin-Whitewater
http://www.uww.edu/learn/improving/restiptool/largeclasses
Managing a Large Class Size, Edutopia
https://www.edutopia.org/blog/managing-large-class-size-rebecca-alber