Teach Abroad in Argentina in 3 Easy Steps!
By Jennifer Collis
September 8, 2015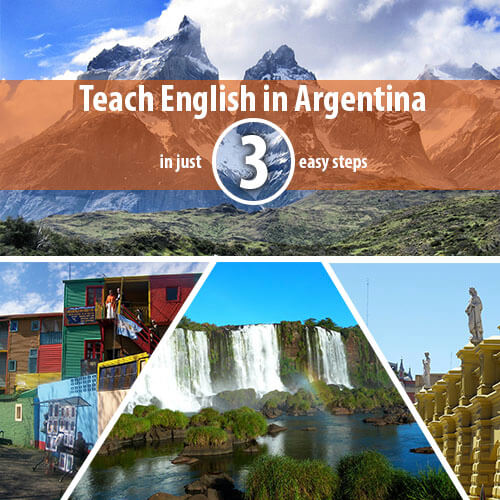 Teaching English abroad in Argentina is a pretty appealing idea, isn't it? Just think of the tango music, the excitement of fútbol, the nearby Andes, the amazing food, and the people and the energy of Buenos Aires… what's not to love? Yet some people get bogged down by the idea that it's too hard to actually make this dream happen. I used to think that, but after teaching abroad myself, I'm here to tell you, it's actually quite simple! Here's how you (yes, you!) can Teach Abroad in Argentina in 3 Easy Steps:
Step 1: Sign up for the 4-week, onsite TEFL course in Buenos Aires: the Bridge IDELT.
So you've never taught a single class before and you have no idea how to explain grammar points like past participles or gerunds? Don't worry– you'll learn everything you need to know in the intensive IDELT course (International Diploma in English Language Teaching).  As an IDELT trainee, you'll attend class full-time, 5 days a week at the Bridge center in Buenos Aires. During that time, qualified IDELT trainers will thoroughly prepare you to lead your own classes of English students. You'll learn how to plan lessons, you'll review grammar concepts, and best of all, you will begin practice teaching real students as early as week one!
We can even take care of arranging your accommodations and other supports during the course, if needed. Plus, save 20% on the Sept. 25th course date!
Step 2: Earn your TEFL certification.


When you finish this 4-week TEFL "boot camp," you'll be a more confident and prepared teacher, and you'll be certified with the highest level of training available: a TEFL certificate earned in the classroom. That means you've just put yourself head and shoulders above other job seekers!
This certificate can be used to get the best jobs in Argentina, and is also widely accepted by schools in regions around the globe, like Asia, the Middle East and Europe.
Step 3: Get a teaching job in Argentina!
Not only do you now have the best TEFL certification, but most schools in Argentina prefer to hire teachers who are already in the country, so as an IDELT grad, you have yet another distinct advantage when it comes to getting your first placement. Bridge staff will personally assist you in your job search by reviewing your resume, giving you interview tips and by connecting you with local schools that are currently hiring teachers.
As IDELT graduate, Lauren, describes, "It's not hard to find a job teaching in Argentina! After taking the Bridge IDELT certification course in Buenos Aires, I got a job with an international advertising and marketing firm as their in-house English teacher."
Most jobs in Argentina involve teaching adult professionals, rather than children, and paid teaching contracts can range from 3 months to a year (or longer).
So what do you think– are you ready to take the first step toward teaching abroad in Argentina? Let us help you. Click here to connect with a TEFL advisor!