As COVID-19 continues to impact our lives, English classes are increasingly moving to the virtual classroom – and sometimes staying there. New teachers hoping to break into this growing market as well as experienced teachers adapting to teaching English online may wonder which TEFL/TESOL course they should take for their unique situation. We break down the best options for current and future English teachers.
For those who are brand new to teaching English
Teachers who are just beginning their careers sometimes wonder where to begin. It's best to start with general training and complement that with specialized certification in teaching English online.
Start with a general TEFL/TESOL certification
Your initial TEFL/TESOL course should be at least 120 hours and provide the foundation in English language teaching that is essential for anyone starting out in the field, including topics such as:
The role of the teacher
Classroom management
Language systems and the history of English
Teaching receptive skills (listening and reading) vs. productive skills (speaking and writing)
Teaching English pronunciation
Writing lesson plans
Assessing students
Teaching special groups, such as young learners and business professionals
Bridge's Professional Certificates meet these requirements. The self-paced 120-hour Master Certificate is the most popular course for new teachers. We also offer a graduate-level TEFL/TESOL course that's more interactive: the 150-hour International Diploma in English Language Teaching (IDELTOnline™). Both are great options for new teachers seeking this foundation.
Get a quick overview of the differences between the IDELTOnline vs. Master Certificate course:

Then add Specialized Certification in Teaching English Online
If you would like to teach with an online company, continue your training by specializing in teaching English online. Courses such as the Bridge Foundations and Advanced Methods in Teaching English Online certifications (120 hours total) will prepare you with teaching strategies specifically for the virtual classroom and will go over online teaching platforms, commonly-used technology, and other important topics.
Optional: Complete a Practicum in Teaching English Online
If you're new to the TEFL universe, then you can enhance your certification by adding a Practicum in Teaching English Online. This way, you'll gain practical experience by delivering online lessons to real students via a teaching platform, and you'll also build a portfolio of recorded lessons to showcase your online teaching skills to potential employers.
For TEFL/TESOL certified or experienced teachers who are transitioning online
If you're a seasoned English teacher and/or you already have a TEFL/TESOL certification, you probably have a foundation in ESL teaching methodology. Yet, you need additional skills specifically for making the move from the traditional classroom to the virtual one.
Take Specialized Certification in Teaching English Online
The aforementioned Foundations and Advanced Methods in Teaching English Online courses provide you with the terms and teaching methods needed to transition to the virtual classroom with confidence, and you'll earn a 120-hour certification if you take them together. This is a great way to sharpen your skills as well as make yourself more marketable to online EFL companies.
Check out these free resources to enhance your TEFL/TESOL resume.
For experienced teachers who want to work as freelancers or start their own online tutoring business
Perhaps you're a teacher looking to break away from your job and teach English online as a digital nomad, or you want to freelance teach online as an extra source of income while you write the next New York Times bestseller. Or maybe you want to start your own full-time business as an online English tutor.
Earn Specialized TEFL/TESOL Certification in Teaching English as a Freelancer
You're already a teacher, so what you need are the business, marketing, and operational skills to succeed as an independent online English tutor. The Teaching English Online as a Freelancer Certification course is a good choice for you since it covers topics such as:
How to choose your teaching niche
How to use social media and to promote your brand
How to manage scheduling, payments, and other operations
How to scale your business
Given that this course is not focused on methodology but on business and marketing skills, it's recommended for experienced online teachers or for graduates of any of Bridge's Teaching English Online Certification courses.
For experienced teachers looking for professional development
Finally, if you've already obtained a TEFL/TESOL certificate to teach English online or you're an experienced online ESL teacher, you can upskill or gain a competitive edge by completing a TEFL/TESOL Micro-credential course.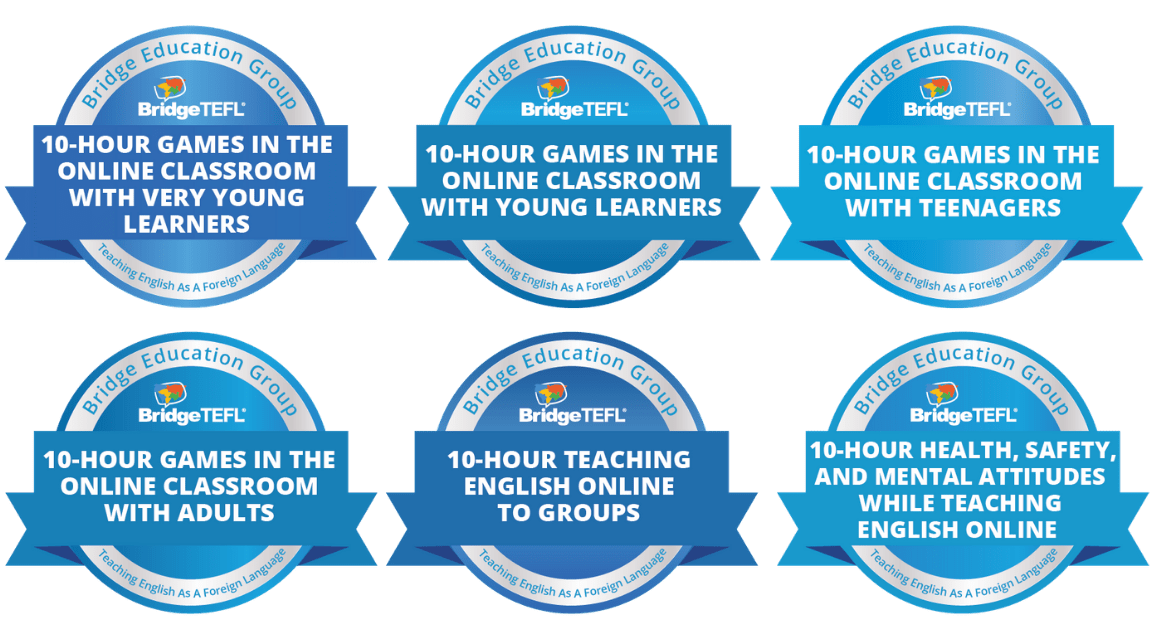 This continually growing portfolio features short, 10 to 30-hour courses that target specific areas of teaching. Here are some of the current Bridge Micro-credential courses for online teachers:
Online teaching has taken off, and it's important to stand out with accredited certifications in this hypercompetitive EFL market. Whether you're just starting out, are a seasoned teacher transitioning online, or are branching out as a "teacherpreneur," you'll have a better chance of getting your dream job after completing the right TEFL/TESOL certification to teach English online.