You've probably seen the bumper sticker that says, "If you can read this, thank a teacher." When you want to give back to society, teaching is one of the best ways to do so. This is certainly true when it comes to teaching English since you're often providing skills that help people succeed academically or professionally. Yet, you don't have to have a standard TEFL job to make a difference. Read on to learn about the reasons people volunteer to teach English and how you can get started.
Take a Micro-credential Certification Course in Teaching English as a Volunteer to learn the skills you need to effectively work in a cross-cultural setting and have a positive impact on the community you serve.
What are the reasons to volunteer to teach English?
The reasons to volunteer to teach English are as varied as the people who choose to do it. Let's take a closer look at the most common motivations that drive volunteers into this area of English teaching. You can even use these six reasons as a checklist to get a sense of whether volunteering to teach English is right for you!
If you're new to teaching, you'll want to get initial training and qualification with a TEFL certificate. You can explore our online TEFL courses to get started!
Reason #1: You want to give back.
If you're reading this and considering teaching English as a volunteer, you likely have the drive to better the world (and yourself at the same time).
Volunteering is one of the ways that you can give to your community, your own country, or the world. Helping people learn English or improve their level of proficiency can result in tangible benefits for students like excelling in school, getting into college, having better job options, or advancing their careers. Even if you don't volunteer-teach long-term, your contribution can still make an impact.
Deciding to be a volunteer teacher is a big decision, and you'll want to prepare well beforehand. Look into your own characteristics and strengths and see what you can offer.
Carol, a Bridge grad from Colorado with a background in elementary and special education, volunteered as a teacher trainer in Cambodia. "My husband and I are retired and do this at our expense," she says. "We do not get 'paid,' although the rewards are priceless."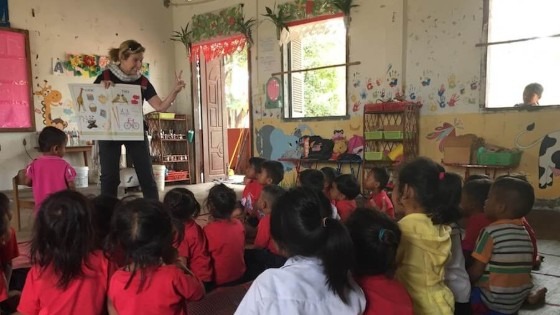 Reason #2: You want to gain experience and skills.
There are also plenty of non-altruistic reasons to volunteer to teach. You might need to try out the things that you've learned in a TEFL/TESOL certification course before committing to a career change. Volunteering to work with local international students or teaching English online can provide insights into how teaching abroad may go for you. You might even make connections with someone who could help guide you to teach in their country of origin!
You might also want to hone your classroom management skills, which is one of those things that simply cannot be done in an "armchair" way. Teaching requires problem-solving, quick thinking, grace under pressure, meticulous organization, and many other skills that translate well into almost any field. Volunteering is a great way to get some practical experience.
Check out all of the types of TEFL/TESOL jobs you can get with certification.
Reason #3: You want to travel and experience other cultures.
Itching to travel? Volunteering to teach English abroad can be your ticket to an adventure that is unique and meaningful. With volunteer English teaching, you may find yourself working in Chilean Patagonia or the mountains of Central Eurasia.
When you teach, you will be in constant contact with the history, culture, and language of your students. You may also be able to live in a homestay with a family from the region that you are in when volunteering. This provides a deep understanding of the local culture and language. Often, teachers end up becoming the ones taught!
Pro Tip: If you need to travel on a budget, volunteering to teach in an informal setting can help you to stretch your money and experience places that you'd otherwise visit briefly in a more meaningful way. Doing volunteer work in exchange for room and board is one way that many people pay their way through a long European, Asian, or South American journey.
Reason #4: You want to boost your teaching resume.
If you're pursuing a career in EFL, it's important to understand that the market has gotten competitive. In addition to earning a quality TEFL/TESOL certificate, taking a volunteer English classroom position can help you stand out from other teachers.
Plus, it's important to consider that some teaching positions online or abroad require previous classroom experience. Volunteering locally or internationally can provide a boost to your resume and help you qualify for more top ELT jobs.
Get more ideas for improving your TEFL/TESOL resume and, therefore, your job prospects.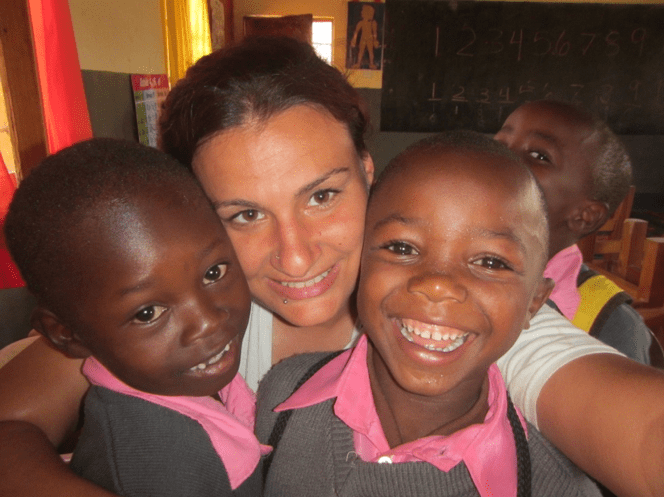 How do I become a volunteer teacher?
The answer depends on where and how specifically you want to volunteer. Luckily, when you're offering your teaching services free of charge, many doors will open for you, giving you the flexibility to choose your niche!
For example, you may decide to volunteer in a country abroad through a program that has formal requirements like an application, personal recommendations, and an interview. In some of these programs, you may pay a program fee to ease the burden on the local community and cover administration fees.
Here are two examples of volunteering placement processes, but these do not necessarily represent how all volunteer positions work:
English Opens Doors UNDP MINEDUC Program: There are full-time volunteer positions in Chilean public schools through the Ministry of Education and the United Nations Development Programme. Pay a fee, fill out a formal application, interview, sign a contract. Arrive in Chile and receive training before placement and more training later in public schools.
Workaway Au Paire/Pod Leader: Contact a family who needs help teaching their children English. Go through an informal interview process through the website, and send references to hosts. Arrive in the country, go to the host's house, and work up to five hours a day, five days a week with their children and the children in the neighborhood using basic English songs, games, and reading activities. This work is done in exchange for room and board.
However, you don't always have to go through a formal program to volunteer!
How do I find volunteer teaching opportunities?
Here are some ways you can look for volunteer English teaching positions if you're ready to take the plunge!
Search for volunteer ESL positions on the Bridge Job Board.
Contact local churches to see if you can volunteer to teach English to immigrants who may need assistance.
Use popular sites like Go Overseas or Volunteering Solutions to find opportunities. Always check references for potential hosts, and try to email a current volunteer to learn about their experience.
Use social media by joining Facebook groups for volunteer teachers and changing your settings on LinkedIn to help you get job alerts for English volunteer positions in specific places.
Apply to major organizations like the Peace Corps. Rotary, the United Nations Development Programme (UNDP), Catholic Charities. Local organizations may have positions for English teaching volunteers as well. The process for programs like these will be more formal.
Look for English centers in your area for incoming foreign students or clubs on university campuses for people who want to improve their English. Sometimes, you need to be affiliated with the school to volunteer, but it's not always necessary.
Contact your local college's Study Abroad and International Education Department. They may be able to set up a volunteering partnership with students who need assistance.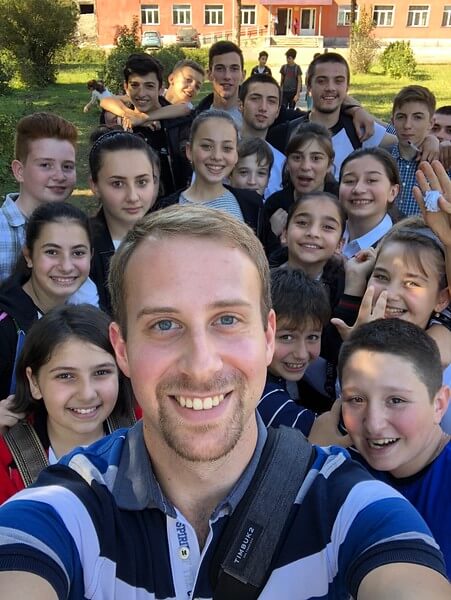 Where are the best places for volunteer teaching abroad?
Places with English volunteer positions exist all over the world. It is true, however, that they can sometimes be most concentrated in so-called "developing" countries, but that doesn't mean that you will be in a small town or a place without modern amenities. Globalization means that modern life has spread everywhere, and even in places like Vietnam or Cambodia that have difficult recent histories, life can be quite comfortable for a volunteer teacher.
Jacob Huggins, a Bridge grad, was a Peace Corps volunteer in the country of Georgia. He said, "I work at a local school with about 200 students and work as an English Language Co-Teacher alongside two Georgian nationals. I teach all grade levels in multi-level classes…"
Other people find that volunteering to teach English abroad brings them to unexpected places in the world. After volunteering to teach during a study abroad program in Cambodia, Bridge grad Lindsay Mattone went to Tanzania to teach. She was inspired by a Tanzanian woman she met in Cambodia who moved there for better opportunities.
She said, "I fell in love with volunteering and teaching English specifically during my university trip to Cambodia. A year after I returned home, I decided to apply for a volunteer teaching and childcare project through an organization called United Planet. United Planet builds affiliations with certain youth development programs around the world."
Can I volunteer to teach English online?
Yes, you certainly can! In fact, during the pandemic, volunteer teaching online may be a good option for many teachers and people who eventually want to move abroad to teach English. There are several online sites that connect English teaching volunteers and people who want to learn. Examples include Paper Airplanes and English Online.
Cheryl Evans, a teacher from Jamaica who began her TEFL/TESOL career volunteering to teach English to refugees online, said, "Right after getting my TEFL certificate, I decided to volunteer, and I joined Paper Airplanes in August of 2020. That experience was like no other. Paper Airplanes is a nonprofit that facilitates volunteering and teaching English to adults — young adults and older adults up to the age of maybe 35. More than 75% of them are Syrian refugees."
If you're interested in volunteer teaching online, you may also be able to conduct virtual lessons with a local organization. For example, in Colorado, Intercambio is one such organization that connects people who want to teach English with immigrants who need lessons. They offer both in-person and virtual lessons.
Pro Tip: Use a site like GreatNonprofits to search for volunteer organizations in your area and find local ESL opportunities.
Wherever and however you choose to volunteer to teach English, you're sure to have a rewarding adventure. Helping others, gaining valuable experience, and developing a deeper appreciation for other cultures make volunteering teaching a priceless opportunity!