Bridge TEFL/TESOL Jobs Facebook Group Q&A
By Krzl Light Nuñes
October 27, 2020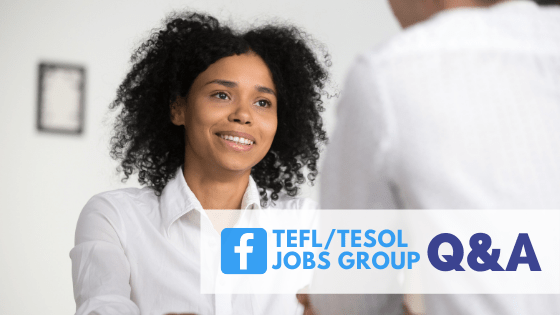 Do you want to break into the English teaching field but questions and concerns are hampering you from getting started? Don't worry! The Bridge TEFL/TESOL Jobs group on Facebook is an online community of aspiring and current teachers where you can ask your job-related questions, give or get tips, and find the latest teaching opportunities. In this ongoing series (read the first and second articles), we answer more questions from job seekers in the group.
Julia, from the U.K., asks, "Pay for online jobs varies from company to company. Why is that and how can I know if a high-paid job offer is legit?"
Typical online teaching salaries can range from about $12-25 USD per hour. If an English teaching opportunity catches your eye but the salary it offers is too good to be true, there are several ways to know if such an online ESL job is genuine.
Know what's included in the offer
First of all, it's important to understand that the pay rates for online English teachers vary depending on factors such as the base pay, incentives, and bonuses an employer offers. If a company mentions that you could receive a certain income per hour, check if this is the base rate or if that amount is an estimate that includes incentives or bonuses that you could receive.
Take your working hours into account
If you see a higher than average monthly salary range for jobs, remember that the number of hours you teach and class bookings you get also significantly affect how much you'll earn. Additionally, online teachers who make themselves available during a company's peak hours – the times of the day when most students take classes — are more likely to earn more than those who teach outside these hours.
Check the kind of company you'll teach with
While the rates that many online English schools offer fall within a certain range, there are some companies that pay higher than their competitors. These top-paying jobs are usually from the most popular online ESL companies or schools that already have a large student base.
Consider your qualifications
The more qualified you are as an online English teacher, the higher your rate can be and the better jobs you'll get! For instance, many companies highly value your teaching experience and put you in a higher pay bracket if you've already taught for many years. Aside from experience, the kind of TEFL/TESOL training you had – which includes specialized certifications in teaching online or expertise in a particular teaching niche – may also be taken into consideration when a company determines your base pay.
Find out more about the factors that affect an online English teacher's salary.
Tips:
Make sure that you look for teaching positions on trusted job search sites. For instance, you can find opportunities in reputable and established tutoring companies on the Bridge Job Board.
Don't forget to do your research and check other online ESL teachers' reviews about the company you want to teach with.
Consider asking members of Bridge's TEFL/TESOL Jobs Facebook group if they're familiar with the employer and if they have any feedback.
Rachel, from the U.S., asks: "How can I find students as an independent/freelance teacher?"
While building your own client base as a freelance English teacher may seem challenging, it is nevertheless possible as long as you know where to look for students or where to offer your classes. Sometimes, you can even get new learners in the most unexpected places, like a casual social gathering or while traveling!
Here are some strategies to find students as a freelancer:
Advertise through print or digital media to market yourself.
Reach out to your network of contacts who can promote your classes by word of mouth.
Spread the word about your English tutoring services in your local community or schools near you.
Offer your classes through neighborhood apps or on online local business directories.
Read how EFL teacher Carla, from Brazil, has grown her clientele through social media.
Priyanka, from India, asks, "How can I be eligible to travel abroad or work online as an English teacher?"
Getting qualified to teach English abroad or online comes down to ticking the requirements that most employers ask for. Let's look at the qualifications you'll need for each type of TEFL/TESOL job.
Teaching English abroad
While the prerequisites for teaching English overseas depend on the region you want to work in, the majority of employers look for the following in applicants:
A TEFL/TESOL certificate, preferably one that incorporates at least 120 hours of study, is required in almost all English teaching jobs.
A bachelor's degree is usually required, but this requirement tends to depend on the region where you're applying. For example, while you'll likely need a degree to teach in Europe, many English teaching jobs in Central or South America don't require teachers to be degree holders.
Many schools look for teachers who have previous teaching experience, although you can find companies that don't have this requirement or will consider other kinds of experience relevant to teaching, such as tutoring, volunteering, or training employees in your company.
A lot of TEFL/TESOL positions, especially in Asian countries like China, Japan, or South Korea or Middle Eastern nations like Saudi Arabia, prefer native English speaker teachers, or those with "near-native" fluency. However, it is not impossible to find jobs in countries that accept non-native speakers, like in many Latin American and Eastern European countries.
Learn more with this comprehensive guide to regional requirements for teaching English abroad.
Teaching English Online
The requirements for teaching English online are generally similar to those for teaching abroad in an actual classroom. However, online ESL companies will more often than not look for the following additional requirements:
Technical equipment for teaching. This usually includes a working computer, headset with mic, a webcam, and a fast, reliable Internet connection.
Experience with children. Many online English teaching companies, especially those in Asia, cater to kids of all ages, so any previous experience working with children can give you a leg up in the application process.
Similarly, these companies may require tutors to have an engaging teaching background.
Kelly, from the U.S., asks, "After I finish my TEFL course, how can I keep preparing to teach English while I'm waiting to find the right job?"
If you're already got your TEFL/TESOL certification, then there's no better moment to start gaining English teaching experience but now. In doing so, you'll be creating a solid TEFL resume and boost your chances of getting hired once you apply for positions in schools, institutions, or online companies. Here are some ways to build teaching experience while you're waiting for a teaching job that best suits you:
You can teach English online. Unlike some in-person teaching jobs, online ESL companies often welcome newbies or teachers with little experience, so it can be possible to seize a virtual teaching opportunity that will help you gain and hone skills as an English teacher.
A teaching practicum is also a good way to acquire hands-on experience and improve your teaching craft while you're not working yet. For instance, Bridge offers a 20-Hour Practicum for classroom teaching and a 60-Hour Virtual Teaching English Online Practicum if you aspire to become an online English teacher.
You can also volunteer to teach English in programs in your country or abroad, which you can find online or through recommendations from other English teachers.
Alternately, you can offer to tutor kids or adults in your community for free, either in person or online.
Find out how you can become an online English teacher with no experience.
Camille, from Canada, asks, "Will the job help with sponsoring visas?"
If you want to venture overseas as an English teacher but you're worried about how to legally work abroad, rest assured that it's possible to get support from potential employers – although this depends substantially on the country and the kind of school you want to work for in that country.
Here are the regions where many schools help you in securing a work permit or visa.
Asia
Plenty of qualified English teachers have easily landed jobs in Asian countries like China, Japan, or Thailand because of two major reasons: 1) there is no shortage of available EFL teaching positions, and 2) the majority of well-established companies provide visa sponsorship to successful applicants even before they arrive in the country to teach. Moreover, employers sometimes offer to cover moving expenses, such as airfare and housing.
Middle East
In popular English teaching destinations in the Middle East, like Saudi Arabia or the U.A.E., foreign teachers must be sponsored by a school or company, which will take care of the paperwork for getting your employment visa. It's also highly recommended that teachers secure a teaching job and have the necessary teaching credentials and a work permit or visa in hand before entering these countries.
Learn more about how to get TEFL/TESOL jobs in various regions of the world.
Whether you're a newcomer in the ESL teaching field or an experienced educator looking to take your career further, we invite you to join the Bridge TEFL/TESOL Jobs Group on Facebook to be part of the conversation.