The current English Language Teaching, or ELT, market is thriving both online and in schools around the world. With the growing number of opportunities comes more competition for the best jobs available. Navigating today's ELT job market requires a bit of research and a dedicated niche. Some specializations are performing better than others, and it's important to be strategic and identify the niche that's right for you as well as one that's in demand. Here is your comprehensive guide to standing out in this exciting educational field.
New to the field of ELT? Learn more about training for every stage of your ELT journey.
Current market overview: What you need to know
The most important consideration to make when evaluating a potential English teaching niche is first how you would like to teach. Broadly speaking, ELT opportunities are either offered online or in person. Some hybrid options exist, but they aren't offered as frequently. The digital English language learning market is projected to grow at a steady rate, with certain niches growing more rapidly. The global digital English language learning market, for example, is expected to expand by nearly 22 percent from 2021 to 2027. Certain student groups and geographic locations are also experiencing more growth, paving the way to in-demand niches that create more jobs. When navigating today's ELT job market, you'll need to start with a few simple choices: Who will I teach? What will I teach? Where will I offer classes? Online classes provide greater flexibility and a potentially wider student base, while in-person classes provide numerous options for teaching settings, hands-on interactions and cultural immersion. Let's look at potential teaching settings.
Read more about online English language market trends and projected areas of growth.
Teaching abroad in person
Current market demand: Moderate
If you're looking for a change of scenery, then teaching abroad is for you. From Vietnam to Mexico, from Brazil to South Korea, the possibilities for teaching ESL abroad are many. Current trends indicate a fairly steady growth in job opportunities around the world for teaching in person with a school or company.
Working as a teacher for a language school requires a rigorous application process as well as a contract for a specific duration. There are language schools all over the world that hire ESL teachers for one-year, three-year or five-year contracts. Teaching with a language school abroad offers a cultural immersion experience that's absolutely unique. Some schools provide living accommodations or a monthly stipend, but that is by no means a requirement. Some things to consider when evaluating potentially teaching for a language school are:
Legal documents required to teach abroad
Certifications recognized by the language school
Cost of living for the area around the school
What class schedules and work days look like
Number of students per class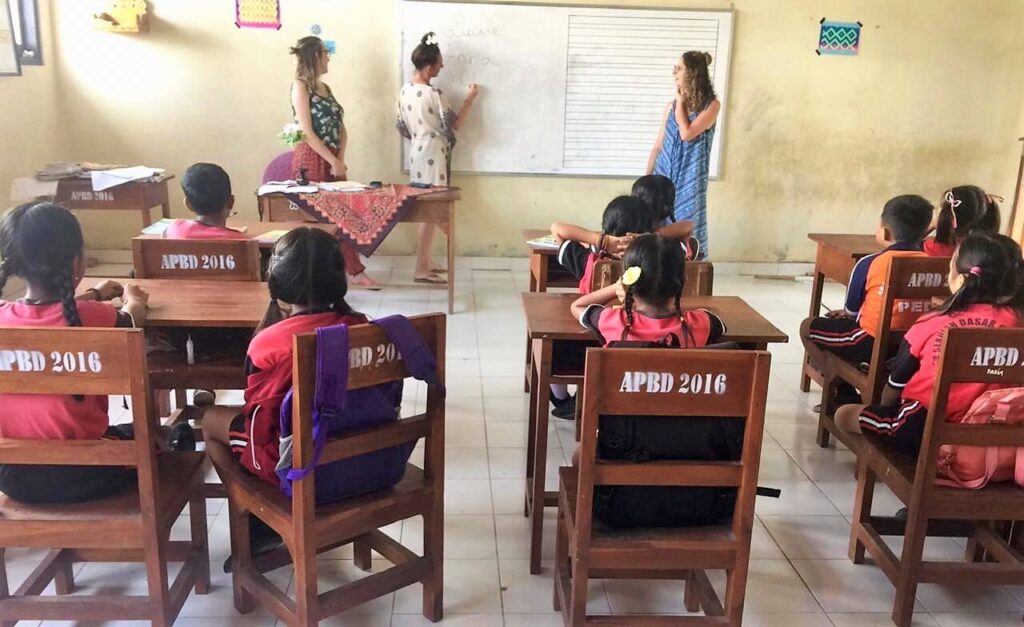 Companies like Bright Future International Training and Services (BFITS) and Reach, Venture, Find International (RVF) are teach-abroad programs that connect English teachers to schools. BFITS partners with over 25 partner schools in Thailand, placing teachers to teach conversational English and content subjects like math and science in English. BFITS works with government and private schools, with locations that range from rural areas to cities like Bangkok.
"As soon as you send the application to us, it takes about 24 hours to receive an interview request."
"Schools require teachers to come from countries where English is the native language," said BFITS Program Managers Giselle Alano and Matt Krupa. "So, we can give work permits to citizens from the U.S., Canada, U.K., Ireland, Australia and New Zealand."
Students range from kindergarten through grade 12. BFITS teachers are required to have a TEFL certificate to apply, and hiring is completed year-round. The application process is quite short.
"If you have all your documents ready, then it's only about a week," they said. "As soon as you send the application to us, it takes about 24 hours to receive an interview request. After the interview, an offer is made within the next day."
After the offer, the applicant is required to complete background checks and a final screening and then the contract is sent.
"Currently, we are able to support participants from the U.S., Candaa, Australia and New Zealand."
There are two types of BFITS programs. The Elevated Academic Learning with English Program (EP) focuses primarily on math, science, grammar/literature and secondary subjects like social studies, health, digital English and ICT. These subject teachers work with 25 to 35 students, work on a 12-month contract and make a salary of 40,300 Thai Baht (approx. $1,125 USD) per month. The Intensive Communicative English Program (ICEP) focuses on practical and academic English communication skills. English teachers have classes of 35 or more students, work for 6 to 11-month contracts and earn 35,500 Thai Baht (approx. $986 USD) per month. Both positions earn a bonus for overtime hours, and curriculum and classroom materials are provided.
As for RVF International program participants, they teach at preschool, elementary, middle and high schools at locations across Spain.
"Currently, we are able to support participants from the U.S., Canada, Australia and New Zealand," said RVF Founder and CEO Harrison Fowler. "All teachers must have a degree (AA or BS/BA) and a clean criminal history."
A TEFL certificate is not required by the school system in Spain, but it's highly recommended applicants obtain a 120-hour TEFL certificate before starting the program. This can "help open doors to make extra cash online through teaching English and/or working part-time with English academies," Fowler said. The application process consists of an online application and two 30-minute interviews. "We just want to get to know each person and give them an opportunity to ask any questions."
Participants are supported through the visa process and with finding housing and are assigned a personal Teach Abroad Program Specialist. Teachers are provided curriculum and teaching resources, as well as workshops and training.
"Our mission is to empower a global community of English teachers, from providing training and certification to vetting potential employers to ensure teachers have the tools they need for successful careers."
BFITS and RVF are both Bridge Preferred Employment Partners that underwent a vetting process to ensure they are credible programs.
"Our mission is to empower a global community of English teachers, from providing training and certification to vetting potential employers to ensure teachers have the tools they need for successful careers," said Maggie de Oliveira, Bridge Teacher and Institutional Relations Manager.
There are many teach-abroad programs with offerings in locations around the world. Requirements for participants will depend on location, so researching the English language teaching requirements of any country of interest will provide insights into certifications, degrees and experience that may be required to teach abroad.
Teaching English online (at home or abroad as a digital nomad)
Current market demand: High
If you choose to teach online, including if you teach abroad as a digital nomad English teacher, you'll have three main paths to consider. These paths include freelancing with an online language company, tutoring with a marketplace and becoming a fully independent teacherpreneur. In any case, the first step to pursuing one of these paths is to complete at least a 120-hour TEFL Certification as well as Teaching English Online Specialized Certification.
Each of these pathways offers unique pros and cons, and your choice of career depends on your unique goals.
Private-sector online language companies
These types of companies tend to focus on very specific target markets. One company's target market may be young learners in Latin America, aged 6-12, while another's focus may be adults learning English to qualify for a work visa or an internal transfer in a multinational company. These online schools, companies or institutes typically assign students (1:1 or in small groups) to teachers and provide all curriculum materials. Teachers will need to have credentials, certifications and most likely a niche or specialization that aligns with the courses the school wants to offer.
"Each teacher can develop their skills and expertise while being part of a company that values their progress and invests in their success."
Private sector online language companies typically pay hourly rates that vary depending on the teacher's qualifications. Experienced teachers can often qualify for a higher rate. Online language companies may also include access to continued professional development as part of teacher benefits. Bridge's corporate language program provides personalized professional development programs to the teachers who work with its corporate language clients.
"Working for Bridge means teachers have countless opportunities for personal and professional growth," said Karina Zew, Bridge Teacher Experience Manager. "Each teacher can develop their skills and expertise while being part of a company that values their progress and invests in their success."
Interested in teaching English to adult professionals? Learn more about Bridge's Teaching Business English Specialized Certificate.
Tutoring marketplaces
Tutoring marketplaces, like Cambly, italki or Preply, are great resources for teachers who prefer to have the backing of a parent company but don't want to be tied to a school contract. These marketplaces offer tools, resources and a platform for online teaching opportunities that provides independent teachers with an accessible pool of prospective students. Students range from children to adults, so teachers on marketplaces can choose their clients, set their schedule of availability and identify niche teaching subjects that attract more students. Teachers create profiles showcasing their credentials and experience through digital badges, sample lesson plans, an introduction video and an availability calendar. Students simply click to schedule classes with teachers who are a good fit. These tools help mitigate many of the challenges teachers face while navigating today's ELT job market.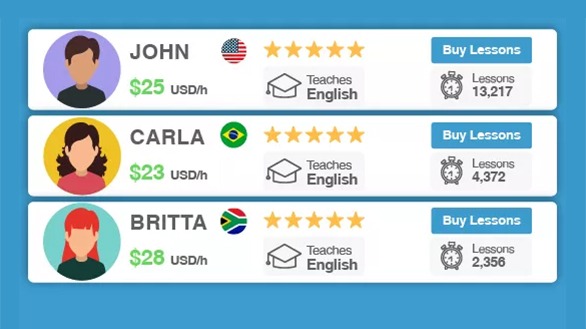 "Cambly is an online English-learning marketplace that connects global students with native English-speaking tutors worldwide in on-demand or reserved lessons," said Meagan Walsh, Senior Marketing Associate with Cambly. "Cambly accepts tutors with and without prior tutoring experience, although many of our tutors have formal teaching experience, a bachelor's degree or a TEFL/TESOL certificate."
While many marketplaces do not provide curriculum or lesson resources, Cambly has an extensive Cambly Library where students or tutors can choose the curriculum best suited to them. Tutors may work with children ages 4-15 or with adults. "Many tutors choose to tutor both for the diversity," Walsh said
Fully independent teacherpreneurs
Teaching English online as a teacherpreneur is a big business, with continued projected growth as the EdTech industry continues to grow, creating increasing opportunities to teach and learn online.
Fully independent teacherpreneurs have even more opportunities to build earnings than when working with companies or through marketplaces, but they must also develop their own brand, market all services, develop their own courses, handle client interactions and take care of accounting. However, for teachers with an entrepreneurial spirit who dream of being their own boss, this career path offers the most freedom. Finding training opportunities to learn the skills needed to manage the business operations and marketing side of this career is the first step. Identifying a lucrative niche you feel passionate about is the next step.
Bridge's Teacherpreneur Academy offers a solution for aspiring or current independent online teachers. The one-of-a-kind pathway program provides members with:
a library of resources
a network of like-minded educators
interactive monthly networking events
expert-led workshops and webinars
Members also complete the Specialized Certificate Succeeding as an English Teacherpreneur, which teaches business and marketing skills.
Resources for following market demand
If looking at job hunting through a business lens is new for you, don't worry! Identifying the skills that are in demand sounds intimidating but is a simple matter of conducting research. The topics within the ELT job market information that you should be keeping tabs on include:
the demand for various niche classes, such as Business English
new and upcoming companies that offer services for job-hunting ESL teachers
job postings for your specialization or niche
new certification or continuing education opportunities
communities of like-minded educators that can help you grow your teaching business
When conducting market research, make sure the data you're evaluating is current, unbiased and from a reputable source. Some online sources with resources on the ELT job market to consider include the following:
Zippia
Zippia is a career site similar to Glassdoor that collates general data and trending patterns for a wide variety of professional jobs. Their data for ESL teachers is a good place to get started and can offer insights into salary trends and resume development. Creating an account with the site allows you to post and apply for jobs within your field, as well as take short quizzes to help guide your professional goals.
Bridge
Bridge is an excellent source of information for keeping a pulse on the ELT market, with blogs and news articles that range in content from teaching tips to industry trends. BridgeUniverse blog categories include job resources, industry insights, teaching English online, pedagogy, classroom activities, teaching English abroad and professional development. Global ELT news articles not only provide in-depth analysis of ELT topics such as effective methods of ESL instruction and increasing access to ready-made ESL lesson plans but often cover trending English language learning market topics such as growing demand for Business English courses and post-COVID online English language market size and projections.
Bridge's Expert Series webinars, similarly, cover industry trends, with expert panelists providing insights into all aspects of the ELT industry. The Expert Series webinar, "The Future of ELT Jobs: Identifying and Qualifying for Growing Markets," includes panelists Cecilia Lemos Harmer, Joint Coordinator of IATEFL Teacher Development SIG, and Mike Solly, Head of English Research with British Council. Watch the webinar to learn about ELT job trends, important qualifications needed to meet job requirements and upskilling ideas to help applicants stand out among the crowd. Viewers can register for upcoming Expert Series webinars or join the community to view the library of on-demand webinars and earn Certificates of Professional Development.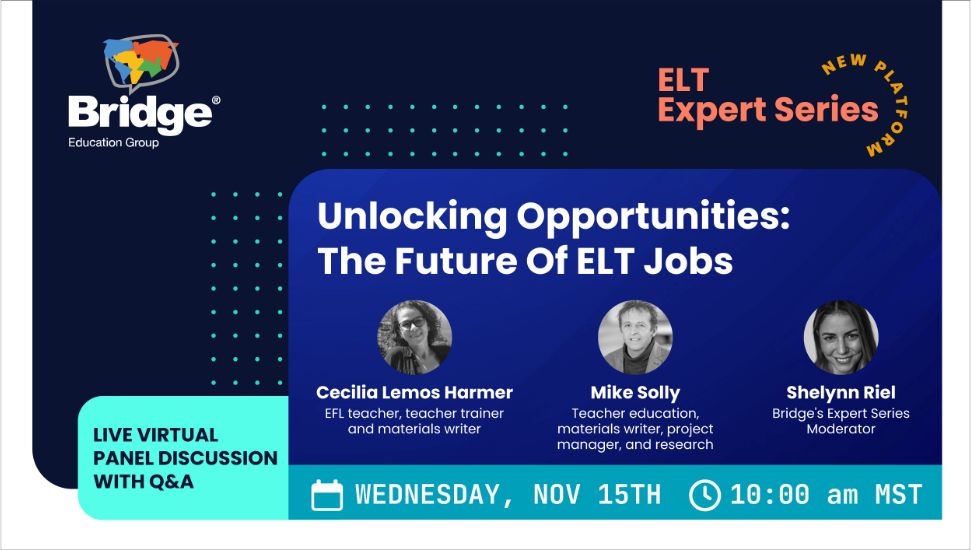 LearnCube
LearnCube is a company that offers online platforms for teachers. They regularly conduct market research through third-party strategy groups, putting together easy-to-read visuals on current ELS market trends. Their data on market trends is invaluable whether you decide to try their products or not. Their blog provides customer insights, information for language schools and reports on rising new technology relevant to the virtual classroom.
The value of finding your niche
It's no secret that teaching English as a second language is a lucrative field that has numerous perks. The flexible work schedule, nearly unlimited earning potential and varied educational requirements draw individuals from all walks of life. Navigating the ESL job market means competing with thousands of teachers with varying skill sets, qualifications and job experience. Like any professional industry, finding teaching gigs that fit your career goals requires planning and a bit of extra effort. The value of finding your niche within the teaching industry cannot be overstated. It will open doors to higher-paying jobs as well as help you stand out in competitive markets. Finding your niche can be broken down into a simple process.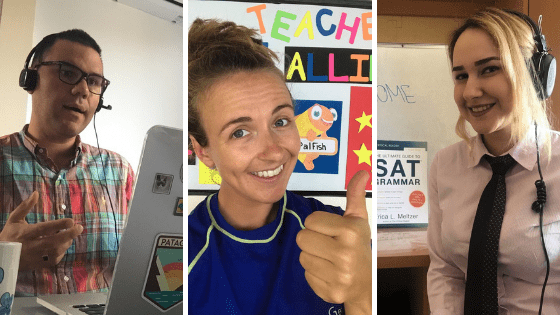 Exploring types of niches
There are a variety of avenues to explore when searching for the perfect specialization path. Each has unique employment opportunities and endless ways to grow your ESL teaching career, be it online or in person, anywhere in the world. Here, we explore a few of the most lucrative and in-demand TEFL niche options.
Test Prep
Ideal for: Digital nomads, teaching small groups, ESL tutors
A major contributing factor to the growth in the ESL student market is standardized testing. These tests are offered for a long list of reasons ranging from work visas to college application requirements. These tests are offered by some of the biggest names in education worldwide, including Oxford and Pearson Education. The tests are rigorous, encompassing a significant amount of material. They also offer a fantastic teaching employment opportunity. From one-on-one tutoring to hosting full-sized classes, there are numerous ways to shape a teaching schedule around test prep specialization.
"There are going to be opportunities to teach and provide preparation for PTE Core."
PTE Academic is accepted by more than 3,000 universities, colleges and professional bodies, and is accepted by the Australian, UK and New Zealand governments for visa purposes. PTE Core is a new Canada-approved test for work and migration that launches this year.
"There are going to be opportunities to teach and provide preparation for PTE Core," said Meredith Stokes, Pearson U.S. Recognition Manager. "The PTE is a global test, not just a U.S.-focused test, but really used globally. We have many resources on our website." For teachers, there are lesson plans, courseware mapping, courses, face-to-face training and a lot of other tools and strategies to teach PTE prep.
Employers also use PTE and other English language proficiency tests for various purposes, including recruitment and selection and general screening specific to job roles, creating a large pool of students and an in-demand teaching niche market.
Learn more about Bridge's Micro-credentials in Teaching TOEFL Test Prep, Teaching IELTS Exam Prep and Teaching PTE Test Prep.
Business English
Ideal for: Working with adults, corporate environment
Teaching Business English is one of the fastest-growing ESL niches in today's market. Increased globalization, online work and international hiring practices have created a higher demand for an English-speaking workforce. This niche is great for teachers who prefer to work with adults, and privately or in smaller groups of three to five students.
"At our language training school, we pride ourselves on being teacher-powered, placing teachers at the heart of everything we do."
If working in a corporate professional setting is the goal, HR departments and private online language companies are consistently hiring ESL teachers to work with groups of employees. Bridge's corporate language program offers companies a variety of course options that range from self-paced online courses to full immersion experiences.
"At our language training school, we pride ourselves on being teacher-powered, placing teachers at the heart of everything we do," Zew said. "We provide business students with the latest and most exceptional language materials available. Through [teacher] expertise and guidance, our students gain the confidence they need to excel in their language abilities, enabling them to effectively carry out their day-to-day duties in the workplace."
"Technology has made professional development more accessible, and that means a lot to people in countries like mine where opportunities are scarce."
Bridge alumni Vinicius Sierraalta is an in-company English teacher for a technology company in Bolivia, helping employees improve their communication skills as they interact with people from places like India and the U.S. He also provides private TOEFL prep courses to small groups of students. There aren't many opportunities to gain specialized ELT training in his area, but taking online TEFL certification courses with Bridge provided him with opportunities to upskill and expand his career options.
"Technology has made professional development more accessible, and that means a lot to people in countries like mine where opportunities are scarce," Sierraalta said. "Thanks to that, I've worked with international companies and made a better living than teaching locally."
Learn more about the growing demand for Business English and the ins and outs of this lucrative ELT niche for teachers.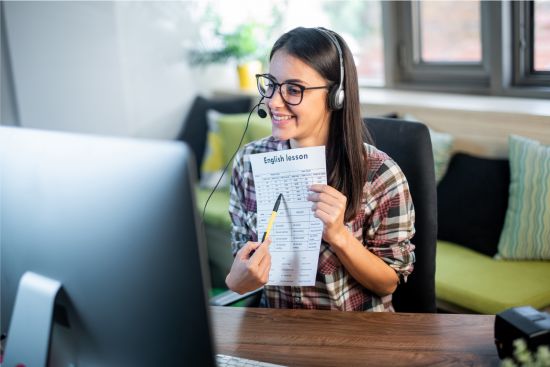 One-on-one tutoring
Ideal for: Strong conversation teaching skills, teaching English online
A popular and potentially lucrative niche is one-on-one tutoring. This approach to language learning provides a much more relaxed pace and environment when compared to teaching larger classes. While it can take time to grow a student base, this niche is extremely rewarding in the relationships and rapport that come with repeat students. Additionally, students often opt for more lessons on average when compared to those in group classes. Each student being tutored will have different goals, language experience levels and long-term viability as a revenue stream for your teaching business.
Working with young learners
Ideal for: Teachers with elementary teaching experience, teaching online or in person
One of the largest markets for ESL classes is young learners. Any student under the age of 18 can be considered a young learner. Each age group has unique rewards and challenges, and successful teaching methodology varies significantly between them. A common thread, though, is the shift from focusing solely on measured progress to maintaining a consistent love for language learning. These students are not usually preparing for a test, and certainly aren't focusing on a promotion. Instead, they are developing skills that they will take far into adulthood. Games, songs and popular culture have a home in this niche. ESL teachers can find eager students all over the world, both online and in language schools abroad.
Learn about seven non-teaching skills you need to acquire to launch an online English tutoring business.
Designing custom courses
Ideal for: Self-paced workers, creatives, freelance teachers
Lastly, designing custom courses is a slightly different approach to specialization but a viable niche for teachers who love creating courses. Perhaps you want to take a step back from the classroom or your schedule isn't conducive to regularly held courses. If this is the case, consider specializing in designing custom courses and curricula. There is always a need for fresh material, quality editing and inspired methodology. This niche is a great way to supplement a teaching income or keep your teacher profile active while you evaluate your next career move. This niche can be done completely online.
Looking for training to explore this niche? Check out Bridge's Micro-credential Materials Development for the EFL Classroom and Specialized Certificate Designing Custom Courses.
The four-step plan for finding your niche
Step 1: Evaluate your teaching strengths and weaknesses. Ask yourself questions like, what age group do I work with most effectively? Where do I see my teaching career taking me in one, three or five years? What do I love about teaching? What aspects of teaching do I struggle with? Answering questions like these will help clarify what you get out of teaching as well as what skills you may be able to further monetize.
Step 2: Obtain a specialized certification in your chosen field. When evaluating your teaching preferences, perhaps you found that you got the most job satisfaction out of working with young learners. Alternatively, perhaps you found that you thrive in a corporate environment. Bridge offers many online certifications to help you gain valuable credentials within your niche.
Step 3: Once you have a certification, add your newly earned digital badges to your online teaching profiles. These badges validate your experience and are an eye-catching way to attract employers and students.
Step 4: Lastly, it's time to market yourself within your new niche. Brush up your teacher profile, find students via social media, cultivate your online presence and reach out to your communities of practice. You'll find that having a niche means that you not only know you'll enjoy what you're teaching but also find ESL jobs even easier. With a specialization, your expertise can only grow, benefiting your teaching career in the long term and boosting overall job satisfaction.
Read more about finding your niche for teaching English online.
Standing out: How qualifications can drive success
For any niche, specialization requires investment. It's difficult to place a dollar value on professional development, but there are countless testimonies, studies and other research that demonstrate the value of continued education. Obtaining new qualifications as you gain experience has both personal and professional benefits. Qualifications require learning, self-reflection and creating clear goals for the future. They open doors within the industry and make navigating today's ESL job market significantly simpler. TEFL certifications demonstrate to students and employers alike that you take your job seriously and want to provide the best education possible.
Bridge offers a wide variety of online certification programs that are entirely self-paced. Each program adheres to international standards for education and is recognized around the world by employers and institutions. Whether you choose to teach in person or online, as a freelancer or a fully independent teacherpreneur, being well-prepared with research and training is sure to result in a successful ELT career.