Shane, From Jamaica, Teaching Business English Online in Chile
By Krzl Light Nuñes
July 22, 2023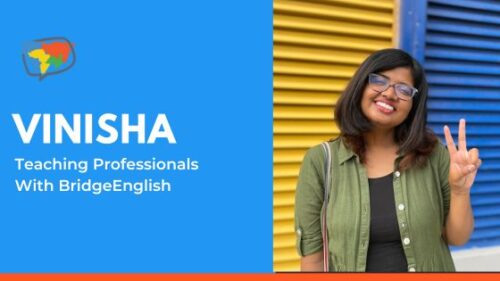 For more than a decade, the English teaching career of Bridge alum Shane Lewis, from Jamaica, has been focused on fueling his passion for helping others and continuous professional growth. He is currently teaching Business English online with multiple organizations as well as to a group of his own private learners in one-on-one sessions. He shares how he began teaching professionals in Chile, how he has developed more skills to cater to his students' needs, and what some of the most rewarding moments have been throughout his teaching journey.
Can you tell us a bit about yourself, Shane?
I'm originally from Kingston, Jamaica, and I'm living and teaching English here in Chile. I left Jamaica in 2011, and then I worked on a ship for about two and a half years. Then, I met my Chilean wife in Malaysia. Upon finishing my time onboard the ship, I went back to Jamaica for a couple of weeks. We got married there, and then we came here shortly after in 2014.
How did you get into teaching English?
When I came to Chile, I knew no Spanish. I got married, and I met my wife's friend, who is married to an American working for the English Language Institute here in Antofagasta. I ended up joining their organization. I've contemplated what drew me to the job, but I think it boils down to having a passion for helping others, and one of the ways that I could do that was by helping others learn English. After doing that, I developed a love for it and I just continued doing it. But I think it stemmed from having that desire to assist someone, especially from a professional or educational point of view, to improve their skill set and their opportunities, be it personal or for work.
How has your teaching experience been in northern Chile?
I'd say a little different given the fact that I initially worked very briefly in a school teaching young learners, which was very different from teaching professionals.
Also, the school I worked for had about 30 students per class, as opposed to now teaching professionals, which has a maximum of five students per class. So, it has been very different but very eye-opening because the professionals I teach bring with them a certain level of expertise and maturity, which is very different from children within a school environment.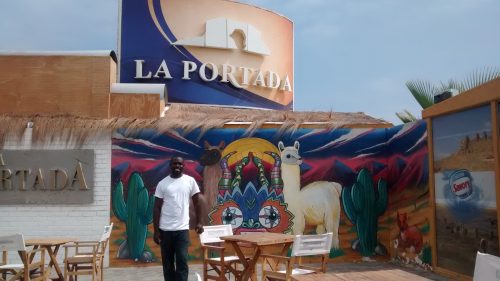 How did you switch to teaching English to professionals?
While I was teaching at the school, a colleague of mine asked for help with teaching some professionals (in person). I assisted her at the time and then it has just snowballed ever since. She actually went to another part of Chile and I continued teaching in Antofagasta. When I finished that course at the company, they requested my presence again for the next year and I've just been doing it ever since.
I've also been with several other companies not only in Antofagasta but also in other areas surrounding Antofagasta. Then, shortly before the pandemic started in early 2020, we had protests here in Chile, which forced us to be a little bit more dynamic and move the classes online. That was when I started teaching English to professionals online.
Read about the post-COVID online English language market growth, with projections of continual expansion.
Where are you currently teaching, and how do you juggle your different class schedules?
At the moment, I work for eClass teaching professionals and Voxy, which provides job-specific language training. Both platforms are online. I also teach private online English students.
You have to be organized, especially when you are working with international students. You also have to take the time zone into consideration. For example, I have some students in Costa Rica, and a month ago, we were three hours ahead of Costa Rica. So, you have to be very mindful of the time difference and manage your schedule very well. However, most of my students are here in Chile.
How did you find your own private English learners?
These are students I've worked with since 2014. I've never really issued a flyer or put any information on Facebook. It's just word of mouth. My students would basically tell their colleagues or mention it to their company, and that's how my name gets around to different people.
Interested in learning how to market on Facebook? Read Into the Metaverse: How to Find ESL Students Using Facebook.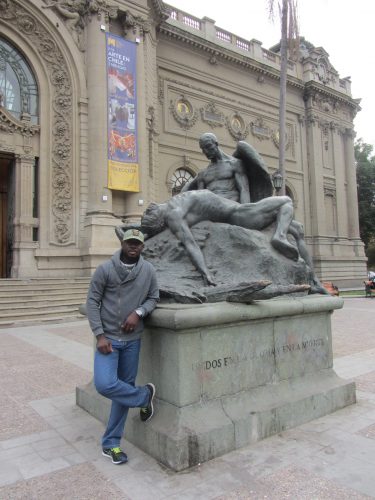 Can you tell us more about your online English teaching job?
Depending on the industry of the professionals, the kind of lesson I give varies. For example, I work a lot with professionals in the energy and mining industry. The north of Chile is known for copper mining, and as a result of that, you have a lot of international companies that work with these mining companies, and a lot of the information that is provided to these companies is in English. Therefore, they need to be able to either conduct meetings in English, respond to emails in English, or read manuals in English. Some students want to work on their writing skills and some want to focus more on giving presentations. But I'd say I teach mostly general and Business English.
What types of materials do you usually use for your Business English lessons?
The companies I work for provide the materials that we, the teachers, use to teach the students, so that's where most of the material comes from.
As for my private students, when I first came here to Chile, I worked with the English Language Institute and we used a book series called Cutting Edge.
If my students prefer to do a general English course, a lot of my materials are based on these books or materials I find online. Some of my resources include:
All Things Grammar
BBC Learning English
TED Talks
Linguahouse
English Grammar in Use
I always try to make sure that I have a wide range of materials, various activities, and different resources I can use to enhance my teaching skills. I'm also currently taking Bridge's Specialized Teaching English Online Certification, which provides a lot of materials that I've also incorporated into my lessons.
Looking for resources as a Business English teacher? Read about 6 teaching Business English lesson plans for all learner levels.
Can you share a rewarding moment you've had as an English teacher?
I had a student who worked in the mining industry, and she wanted an intense English course, meaning seven days per week for three months. She received a really good offer in Kazakhstan, so she needed to learn English. When we started, she didn't know any English.
I remember asking her to take down all the photos from her wall. Then, I asked her to go to the library and buy different Post-its and charts. She was very confused at the beginning, but at the end of the three months, all her walls were covered with different English vocabulary, phrases, and grammatical structures. She could see from week one all the way to week 12, so she could literally see the progress that she had made. I remember her saying that she has never had a teacher who made English so practical.
In the end, it was so fulfilling to know I helped her to achieve her goal. A month later, she sent me a message that she was doing so well in Kazakstan. That, for me, made it worthwhile. But I think that most of the credit is hers because she stopped working and she gave up everything that she was doing for 12 weeks to study English.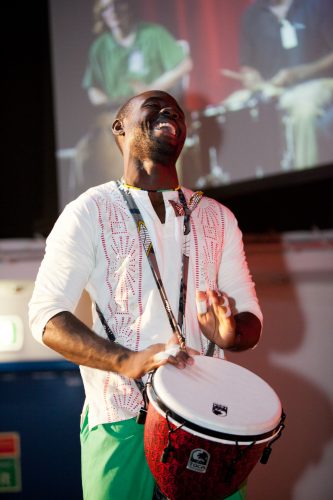 When a colleague asked me to be a part of his organization, a part of that requirement was completing a TEFL/TESOL course online. At that time, it was 100 hours, and I upgraded it to 120 hours. Fast forward to 2022, and I did an introspection of my year to see which skill sets I was lacking or what I could improve on. So, I asked for feedback from my students, and many of them wanted me to teach them more grammar. So, I saw that Bridge has a Specialized Teaching English Grammar Certification. When I finished that, I saw the 150-Hour IDELTOnline™ Certification. Then, I saw the Specialized Teaching English Online course bundle, which is the certification I'm completing now.
To be honest, I find them very timely for what I'm doing because a lot of times I get bored with what I'm doing, so I'd like to diversify my skill sets. The learning platform is also very easy to use and the materials are very good. I'm addicted to learning, so after this course, I'm going to be doing some more!
How did these courses help advance your teaching skills?
There are many different things that I've learned from the courses that I've done that have really enhanced my skills. One specific thing I can think of is online lesson planning. It's not the easiest thing for me to do, to be honest. I know the information but to put it into practice and let it flow in the class, especially when my students don't like to have a structured class, can be difficult. They want the classes to flow naturally. So, having a lesson plan for a specific lesson sometimes is very tedious. Also, it's one thing to have the lesson plan, but it's another thing to put it within the timescale that you have. However, there's a specific section of the IDELTOnline™ TEFL/TESOL course that focuses on lesson planning. That helped me tremendously in learning how to execute different lesson plans.
The Micro-credential in Error Correction has also helped because there are some students who want to be corrected in the moment and there are others who like to be corrected at the end of the class. From this course, I learned different ways to provide feedback, different times to correct the students, how to correct them, and so forth.
Learn how to personalize your English lessons with these 7 effective strategies.
What's next for you?
I'm planning to eventually launch my own online teaching business, which is why I'm consistently learning and why I'm excited to finish these course bundles that I'm doing. I believe that going independent will provide me with more flexibility and not limit the classes I can teach. I also believe that branching off on my own will give me a greater ability to fulfill the needs of my students. It will also allow me to travel and have classes in any country I choose. A few of my students have also encouraged me to do so.
So, for now, I'm just basically learning and I'll keep learning, especially from the business aspect of it, so that whenever I launch this venture, I´ll have the knowledge to do so.
Learn the marketing and business skills you need to launch your independent teaching career with Specialized Certification in Succeeding as an English Teacherpreneur.
Do you have tips for teachers who want to explore teaching Business English online?
Make the lessons fun, realistic, and dynamic. Don't depend on traditional methods or think only of a traditional setting. For example, another memorable moment that happened to me was when my student was struggling with learning new vocabulary words, particularly vocabulary about what she would eat on a daily or weekly basis. At the end of the month, I said that the class (which normally runs for an hour) would take three hours and that it would be in the supermarket. We spent four and a half hours in the supermarket, and we went from aisle to aisle. At the end of that class, she learned over 300 vocabulary words! So, know what your students need and try to meet that need in a very creative way.
Also, be very patient and spontaneous. You have to think outside of the box. You have to care. Especially with professionals, students can see if you care. If you don't care, they're not going to care either. A lot of these professionals take the course because they're required to, but beyond that, why are they doing it? I always inspire my student to not just do it for me or for their company.