How to Get Your First TEFL Job: A New Teacher's One-Stop Guide
By Rashmi Chugani
April 13, 2021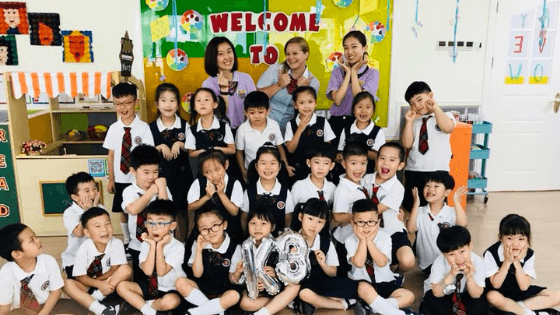 So, you finally completed your TEFL/TESOL course and have a lovely certification to show for it – congrats! Now, it's time to get the ball rolling and get your first TEFL job. Whether it's in the classroom or online, you probably have hundreds of questions about job availability, interviews, and the hiring process. Here are some explanations to help you navigate the different aspects of getting that first position.
How long does it take to get a TEFL job?
First of all, landing a TEFL job depends on a number of things like what sort of work you want to do, where you want to teach, and your expected TEFL salary. It also depends on TEFL hiring seasons and whether you're looking to live abroad or work online (note that getting a TEFL job abroad usually takes longer than getting one online).
Whatever the case, there are some things you can do if you want to get your first TEFL job faster:
Make sure you're prepared with all of the necessary documents, such as copies of your degree and TEFL certifications, your visa application (if going abroad), and an updated resume.
One of the best ways to make your application stand out and get hired faster is by showcasing expertise in the teaching niche you'd like to work in. Add short, targeted professional development courses in high-demand areas, such as Micro-credential courses or Specialized Certificates, to your resume to give it a boost.
It's important to note that these are strange times, with COVID-19 continuing to alter future travel plans. If you want to get your first TEFL job abroad but have to wait for borders to open back up or for slow visa processing times, you might want to consider teaching English online for a company or marketplace first. There are many great reasons to teach English online before going abroad, and there are even special certifications, like the Bridge Teaching English Online + Master Certificate Bundle, that qualify you to teach both online and worldwide.
Finally, if you're tired of applying to jobs or waiting to hear back from companies and schools, perhaps it's time to consider becoming your own boss! If having the ultimate flexibility and control over your career sounds appealing to you, then you should consider teaching English online as a freelancer. Being an independent teacher has many perks, like choosing your students, rate, curriculum, and schedule, for starters. And, while you will have to put in time and effort to find students and get your business off the ground, you won't have to wait around for ESL companies to hire you.
You completed your TEFL/TESOL certification, now what? Find out what steps to take next!
How can I get a TEFL job with no experience?
In order to be competitive in today's job market — even if you're searching for TEFL jobs for beginners — it's best to get some experience under your belt. Luckily, it's easy to get TEFL/TESOL experience!
Here are a few simple ways to gain some experience:
Newly certified? Find out other ways to get TEFL/TESOL experience.
Where to find TEFL jobs
If you're wondering how to get a TEFL job, then you've got to be patient because there are many opportunities out there that you'll have to comb through to find the company or school that is the right fit for you.
Here are a few ways you can start your job search:
Join Facebook groups, like the Bridge TEFL/TESOL Jobs Group, that post legitimate opportunities from pre-vetted schools and companies.
Use trusted platforms, like the Bridge Job Board, that allow you to create a teacher profile and easily apply to multiple jobs.
Take advantage of your TEFL/TESOL certification provider's job placement assistance, which should include help from a professional advisor.
Check out these companies currently seeking online English teachers.
Tips for finding a job after your TEFL certification
You're done with the hardest bit, so relax, and rest assured you'll find a good job with your TEFL certification in hand. It may not be the fastest process, but be patient and follow these tips:
Make social media your friend
You can Google "TEFL jobs for beginners" or "how to get a TEFL job" and get very good results, but don't forget Facebook groups, which we briefly mentioned earlier. Social media can be wonderful for finding new opportunities at legitimate companies, or even with individuals looking for a private teacher.
Read these tips to overcome TEFL job search fatigue.
Create a TEFL resume
A TEFL resume is slightly different from a regular resume and is essential for landing a good ESL job. Your TEFL resume should cater to schools, online companies, language centers, etc. All it takes is tweaking your current resume, but it can be the difference between waiting for an ESL gig for months and getting a call back from your dream school!
Plan ahead
If you're planning on moving to Spain, Dubai, or any other location where ESL teachers are in demand, then keep in mind that there's a lengthy process for moving abroad. Plus, most countries require visas if you want to stay long-term, so plan ahead accordingly.
Knock 'em dead in the interview
Teaching is a social career, so you're likely to have an interview or two before you get your first TEFL job. In some cases, you'll even have to prepare a demo lesson to show the interviewer whether or not you're a good fit. Take time to adequately prepare for your TEFL/TESOL interview.
Read Bridge job advisor Kevin's top tips for your 2021 TEFL job search.
What to expect during the TEFL application/interview process
You'll have to ace the TEFL interview questions whether you're applying for an online position or to teach in a classroom in Seoul. In either scenario, it's important to prepare for each specific position. Also, make sure you're aware of the different hiring processes.
Teaching abroad
Moving abroad is a very long process. Usually, work will start in September, but you'll have to start applying at the start of the year. It's important to plan ahead and prepare for the interview process, the visa requirements, and finding a place to live. Study the school, region, and country to feel confident during your interview. Besides showing off your knowledge as an English language professional, describe what motivates your move and highlight your adaptability.
While it may seem daunting, it'll be a rewarding experience you'll carry with you forever. Who knows? You might even move abroad permanently!
Download a TEFL/TESOL country guide for more information on your dream location!
Teaching online
One of the perks of teaching online is that it can be done remotely from anywhere. As the pandemic took over our lives, having virtual lessons became the norm. This means that in order to be competitive, you'll have to be extra prepared for the interview you land. Make sure that you highlight the most valuable aspects of your TEFL/TESOL certification and also speak clearly and in a professional manner. The hiring process for teaching English online is usually much quicker than for in-person jobs and simply consists of an application, interview, demo lesson, and contract.
Landing that first TEFL job is an important step in your career as an English language professional. Get certified, prepare for your interview, and be patient. The right position will come your way!