Online Teacher Mari's 8 Mistakes to Avoid When Teaching English Online
By Maricela Breedlove
September 7, 2021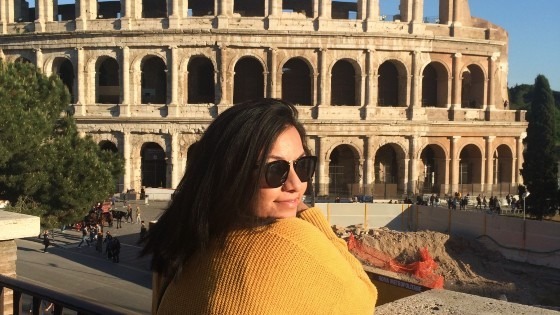 Maricela (or "Mari") is a Bridge graduate who has been teaching English online for about three years. She has lived and taught in four different countries, most recently Scotland, and recently worked for online tutoring company GOGOKID. We asked her to share what she's learned teaching English online from home, particularly the common mistakes new online English teachers should be aware of — and how these mistakes can be avoided.
Not yet certified? Browse online TEFL courses. 
1. A distracting teaching setting or appearance
As an online teacher, your teaching setting and appearance while on-camera are the only impressions you will be able to leave both your students and parents with after their lessons. That's why it is essential to make sure what is visible to your students is appropriate and engaging. For example, if your online teaching "classroom" is in a busy part of your home, your students will undoubtedly become distracted by the people or pets walking by during their lesson.
How to avoid this problem
You should choose a quiet, neutral space to teach from and always look and behave in a professional manner. Even if you are lucky enough to be teaching from home, your students shouldn't see you in pajamas or having just rolled out of bed!
Check out these 10 rules of etiquette when teaching English online.
2. An uninspired virtual classroom
As an online teacher, the background students see behind you as you teach becomes your virtual classroom, and having a boring background is one of the most important mistakes to avoid when first starting as an online English teacher. Beyond being quiet and professional, your background should be colorful and engaging for students. This doesn't mean that your set-up has to be expensive or time-consuming; it just takes some thought and preparation! A lively background will keep your students' attention and provide you with additional ways to teach new vocabulary, numbers, letters, etc.
How to avoid this problem
Luckily, this is an easy mistake to avoid. A map, a poster of the alphabet, various shapes, and colors are great options to use as a backdrop and can be done on a minimal budget. Take a look at my teaching background to see what I mean:
Something else that will prove to be invaluable when teaching young children is the use of props. Props can be anything from puppets or toys to realia — everyday items that are already lying around your house! For example, bringing in some pots and pans from your own home when learning new vocabulary about the kitchen will be highly effective!
Learn more about creating an online background your students will love.
3. Not managing your time effectively
Learning to manage your time efficiently will make your online teaching journey a much more pleasant experience. This not only means making those precious 5-10 minutes between lessons work in your favor, but it means making sure you have figured out the time difference between your student's time zone and yours. You'll want to avoid missing classes or arriving late by not knowing when your classes are meant to begin, so stay prepared (I keep a China clock on my desktop for those days I still get confused).
Here are tips for creating your ideal online English teaching schedule.
How to avoid this problem
Preparation will be your best friend when first starting out, especially when teaching multiple classes a day. Take 10-15 minutes the night before your lessons to look over your subjects and prepare any props you will need beforehand to avoid distractions during class time. This will give you time to make notes between classes rather than gathering and preparing props with your limited break time.
You can get a snapshot of my weekly teaching schedule and how I manage my time in this article: A Week in the Life of an Online English Teacher.
4. Lacking the proper equipment
Investing in the proper equipment, such as a decent computer, camera, and high-speed internet, to make your classroom the best it can be will help you avoid numerous mistakes. One of the most important pieces of equipment for online teachers might surprise you: proper lighting. Proper lighting will ensure that your classroom is bright and lively, keeping your students motivated throughout the lesson. Additionally, a great (does not mean expensive) headset is mandatory for most companies, but it is also a game changer for online English teachers. You will hear and be heard by your students much better, ensuring correct direction and correction.
While your computer, camera, lighting, headset, and internet connection are obvious and important aspects to being the best online English teacher you can be, they are also crucial to how much money you can make while teaching. You can avoid missing lessons, acquiring penalties, and receiving poor feedback from teachers and students by having the appropriate equipment and internet connection, thus ensuring continued bookings and more money.
Learn more about the requirements to teach English online.
How to avoid this problem
When you're starting out as an online English teacher, you might just want the essential equipment, but if you decide to stick with it, you can invest in your online teaching space and take it up a notch. For example, you might start out using lamps from around your house to provide ample lighting but later invest in a ring light to really enhance your teaching presentation.
5. Too much "teacher talking time" (TTT) or down time
As the teacher, you'll want to avoid overspeaking in your online English lessons, especially with younger/beginning learners. You'll learn in your TEFL course that your speaking time during class is referred to as "teacher talking time," or TTT, and it should be minimized. Doing this is particularly challenging for new teachers who have not taught one-on-one lessons before; however, the goal is to have the student do the vast majority of the speaking during their lesson to give them the much-needed opportunity to practice what they're learning.
How to avoid this problem
When speaking to students, ask questions that will prompt longer responses and more opportunities to practice pronunciation. Learning to ask your students open-ended questions (rather than questions with a yes/no answer) is particularly important when you find yourself with the dreaded "down time" during a lesson. Down time is when you have worked through the whole lesson early and must fill the rest of the time with your student effectively. Use this time to review vocabulary words, encourage students to ask questions about the lesson, and practice any words they may have had trouble with during the lesson.
Get more tips for reducing teacher talking time (TTT).
6. Losing your young students' attention during class
Teaching English online can test the patience of even the most seasoned teachers, but don't let that scare you! This isn't because it is impossible to keep children engaged at all times but simply because children can be unpredictable. There will be times when you find yourself teaching a student while they are in a car, a crowded room, a restaurant, or on the floor upset, but this is just par for the course! Be patient and focus on the task at hand: keeping the student engaged.
Here are some challenging types of online students and how to handle them.
How to avoid this problem
There are many useful and practical ways to keep your students engaged and motivated during their online English lessons, especially when they're struggling with the content, staying focused, or both. Some ideas for keeping young students' attention include:
7. Poor communication with your students' parents (if you teach kids)
Effective teacher-parent communication can lead to a more fulfilling learning experience for your students, so you must master this early in your teaching career. There will be parents who are very hands-off and let their children do their lessons on their own, parents who direct their child and disrupt your teaching, and every type of parent in between. Having effective communication with the parents will ensure that you keep certain things from becoming disruptive or getting in the way of the student's success without being offensive.
How to avoid this problem
It's best to check with your employer about how to handle communication with your student's parents, as policies can vary from one online teaching company to the next. For my company, communication with parents is very structured. We tutors are required to write up feedback within 12 hours of the class ending to describe how it went, such as what we covered in the class, what the student did well, and what he or she needs to practice (and how).
8. Teaching in isolation
Teaching online from home can get kind of lonely; unlike traditional classroom teaching, you won't have the same interaction with other teachers or with a class of regular students. Therefore, it is crucial to build relationships with your support staff and other teachers via your company's teaching platform. Getting to know your support staff will come in handy when you lose internet connection, can't log into your classroom, or have trouble seeing your student!
Learn more about teaching English online vs. the physical classroom.
How to avoid this problem
Don't be afraid to ask questions and get involved in your teaching community! Most online English teaching platforms have a community page or message board where you can communicate with fellow teachers. Here you will find tips, tricks, and general support from others who are experiencing the same thing you are while teaching English online.
Most importantly, build rapport with your students. They love learning about their teacher's life outside of the classroom, and having a good relationship with their teachers can help students feel more comfortable in class, leading to greater participation.
Like any other profession, teaching English online has its pros and cons, but it's a flexible, fulfilling career in which you can help people learn valuable skills. With some simple adjustments to your teaching style (or your initial preparations if you are just starting out teaching English online), you can ensure that you avoid common teaching mistakes so that you and your online students have the best experience possible.