What Are the Benefits of Micro-Credentials for TEFL/TESOL?
By Bridge
July 14, 2020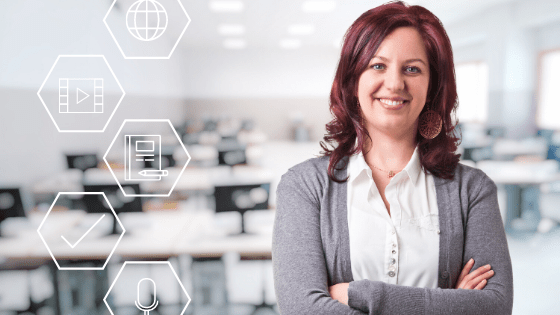 If you're already teaching English or perhaps waiting for international borders to open so you can be hired abroad with your shiny, new teaching certificate, now is the perfect time to take TEFL/TESOL Micro-Credentials. These short, topical Bridge courses are tuition-free and 100% online. The benefits of Micro-credentials for TEFL/TESOL are big, and you can upgrade any time to earn verifiable certification and digital badges to make your resume stand out. Let's dig into these free learning resources for English teachers.
Micro-Credentials for TEFL/TESOL are a great way for certified/experienced teachers to learn new skills
Even though the Microsoft Office suite in your teaching office may be from 2007, the fact is, teaching English has changed a lot in the last decade. There are new topics, new tests, and new materials that teachers can integrate into the classroom to make the most of the time they have with their students. Micro-credentials can help you to learn these new skills and stay current in terms of your teaching "arsenal."
Here's just a taste of the Micro-credential topics currently available. (We regularly add more topics, so you should check in regularly on the Micro-credentials page to see what new courses are offered.)
When you complete a Micro-credential course, you'll be able to use what you learn right away to improve your teaching. For example, maybe you notice that your students could really use a hand with their listening skills. The Micro-credential course on Teaching English Using Podcasts would be perfect for this situation. You can leverage this popular medium for 21st-century learning, and the course also introduces ways to encourage your students to make their own podcasts to share. You'll encourage creative thinking and confidence by teaching with podcasts.
Micro-credentials provide ongoing professional development
Professional development and constant learning are the hallmarks of a great teacher! It's so important not to get stagnant and out-of-date in terms of your thinking, skills, and knowledge. Think back to the worst teachers you had in school. They most likely had simply given up learning new things and just taught the same thing they had for decades, right? You don't want to be them.
Show dedication to lifelong learning
ESL professional development, like Bridge Micro-credentials, demonstrates that you are dedicated to learning and changing throughout your teaching career. This is key to your success and ability to adapt to the constant changes of the 21st-century classroom. Just think of the massive shifts in education in 2020, and you'll see that the benefits of a Micro-credential course about using videos in the classroom or adapting to online teaching can be myriad.
Fulfill professional development requirements
Do you work for an online or in-person school that requires teachers to take part in ongoing professional development? Micro-credentials programs are a fun and easy way to fulfill such requirements.
Micro-Credentials enhance your TEFL/TESOL resume with verifiable credentials
Of course, learning for learning's sake is important, but are there also concrete career benefits to taking these courses?
Add as many new skills as you like with free courses 
There's no limit to the new skills you can acquire and add to your resume for free, such as materials development or IELTS test prep expertise.
Upgrade to earn certification and digital badges
However, you can also upgrade at any time to boost your resume further. When you upgrade, you'll be assigned a tutor and given additional components to complete. Upon successful completion of these assessed components, you'll earn verifiable credentials, such as a TEFL/TESOL certificate and a digital badge.
This digital badge is verifiable, backed by blockchain technology, and graduates often share their badges on their LinkedIn profile, resume, or in their email signature. Potential employers will be able to click the badge and look up the specific content that you've mastered in the course.
There's no limit on how many stackable credentials you can earn especially because Bridge is continually adding new Micro-credential courses! Every time you complete a course, your Bridge TEFL/TESOL certificate will update to reflect the new hours, and you'll be issued a unique digital badge.
Micro-credentials give you a taste of a Bridge TEFL/TESOL courses before pursuing a full certification
If you have not yet decided that a full TEFL/TESOL certification course is the right path for you, you may still benefit from a Micro-credential course. The courses are short (about 20 hours each) and they use the same integrative platform that our other TEFL/TESOL courses use. This makes these short courses a good way to test the waters and sample how a Bridge course works before you commit to a full certification.
Explore the interactive Bridge course platform
The design of this portal for online learning was one of the first to use these resources in the TEFL/TESOL industry, and through constant updates, it remains a great way to learn online at your own pace.
Like our other online courses, Micro-credentials are 100% online and may be completed on any device at your convenience. Log in when you like and work at your own pace.
Our online learning platform is full of interactive content, teaching videos, and downloadable resources that you can keep.
If you upgrade your course, you'll be assigned a personal tutor, just as you would be in our other TEFL/TESOL courses, so you can get a preview of the personalized support and feedback they provide.
Once you've had a chance to familiarize yourself with the platform and content, you'll be much more prepared for more in-depth professional development courses such as a Bridge Specialized Certificate or a general TEFL/TESOL course like the 120-Hour Master Certificate or the 150-Hour IDELTOnline™.
Micro-Credentials can increase your earning potential and help you qualify for more TEFL/TESOL jobs
If you're trying to break into the TEFL/TESOL market at the higher end of the pay scale, or you're working to advance your career,  having more qualifications and specialized skills is a great way to set yourself apart.
Learn in-demand skills a particular niche
For instance, one of the most in-demand skills for TEFL/TESOL in the world at the moment is the ability to teach IELTS exam preparation. This test is the standard for many English-language university programs, job interviews, and study abroad opportunities for those who speak English as an additional language. The 20-hour IELTS Exam Prep Micro-credential is a gateway to being able to help students with this test, and you may be able to carve out additional pay. Even if you teach young learners, you may find that your skill is in demand among parents and managers for specialty courses, individual tutoring, or advanced English lessons.
Broaden your career opportunities
It's always better to have more skills! You can use what you learn in a Mirco-credential course to lead the way to career advancement in your current position or to find additional opportunities in the wider job market. Senior teaching positions and management in the TEFL/TESOL world are often primarily based on the training of new teachers, and having additional knowledge from your Mirco-credential courses may allow you to take these leadership roles.
If you're convinced of the many benefits of these specialized courses, sign up for as many free Bridge Micro-credentials as you like! You'll be able to put what you learn into practice in your classroom immediately, and you'll be on your way to being the best teacher you can be. Use these free, online trainings to enhance your resume, continue your professional development, or earn credentials you can showcase and share as you advance your career.