Bridge Preferred Partner Profile: VIPKid Online English Tutoring Company
By Bridge
December 13, 2019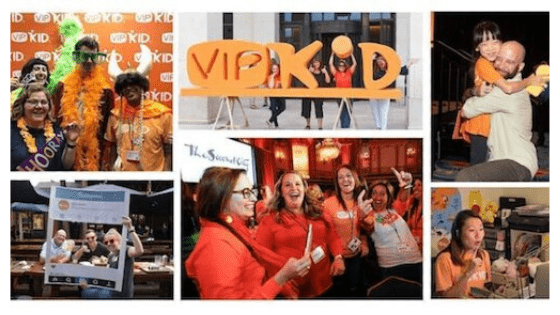 VIPKid is a China- and US-based online English teaching company that has paved the way for online language learning. Started in 2013, it has grown exponentially in recent years and they now have over 500,000 students! VIPKid is also one of a select group of platforms and teacher recruiters that make up the Bridge Preferred Partner network.
VIPKid at a Glance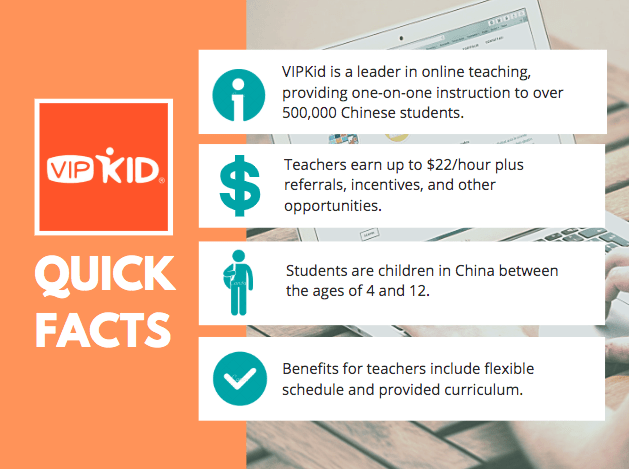 What is a Bridge Preferred Partner?
Bridge Preferred Partners are well established, fully vetted and approved TEFL programs Bridge works closely with. Qualified teachers looking to apply to Bridge select partners, including VIPKid, can simply register on the Bridge Job Board and create a Teacher Portfolio. This allows you to let Preferred Partners know you're interested, so they can reach out to you directly with job offers!
About the Job at VIPKid: Requirements, Schedule, Pay, and Benefits
Requirements to Teach with VIPKid
To apply, teachers should be TEFL certified, hold at least a bachelor's degree in any subject, be eligible to work in the US or Canada, and have a minimum of one year's teaching experience (this can include tutoring, coaching, mentoring, and similar experiences).
Teachers' Hours/Schedule
There is no minimum or maximum number of hours teachers must work at VIPKid. Teachers can work whenever they like within VIPKid's available time slots.
VIPKid students are in China, and the most requested time periods are in Beijing time: Monday-Friday 6-9 pm, and Saturday-Sunday 9 am–9 pm. VIPKid recommends teachers are available for at least 7.5 hours per week (15 time slots per week at 30 minutes per slot) during Beijing peak times to increase your bookings.
This chart shows peak times in Beijing, converted to US time zones:
Peak Times (Daylight Saving Time)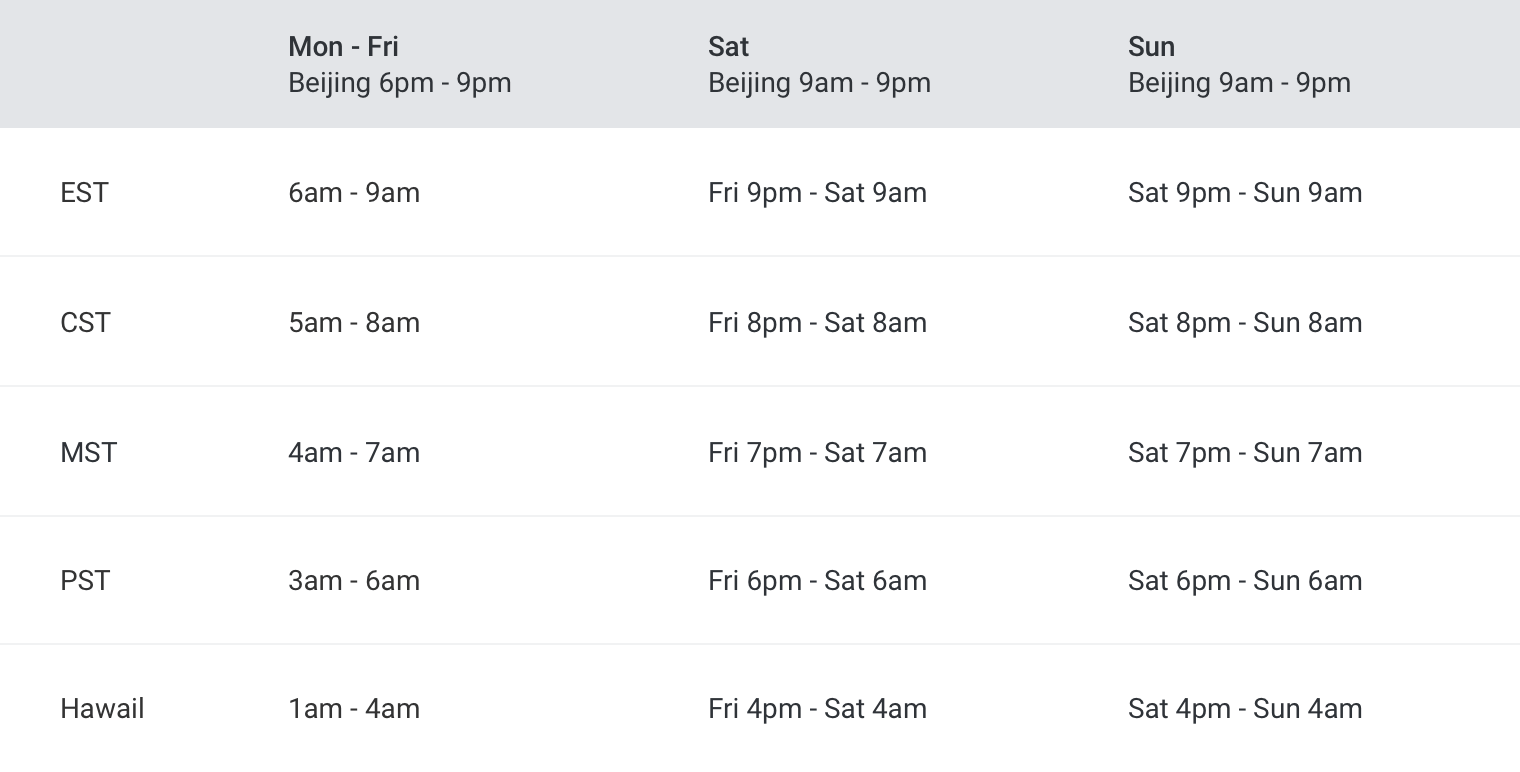 Peak Times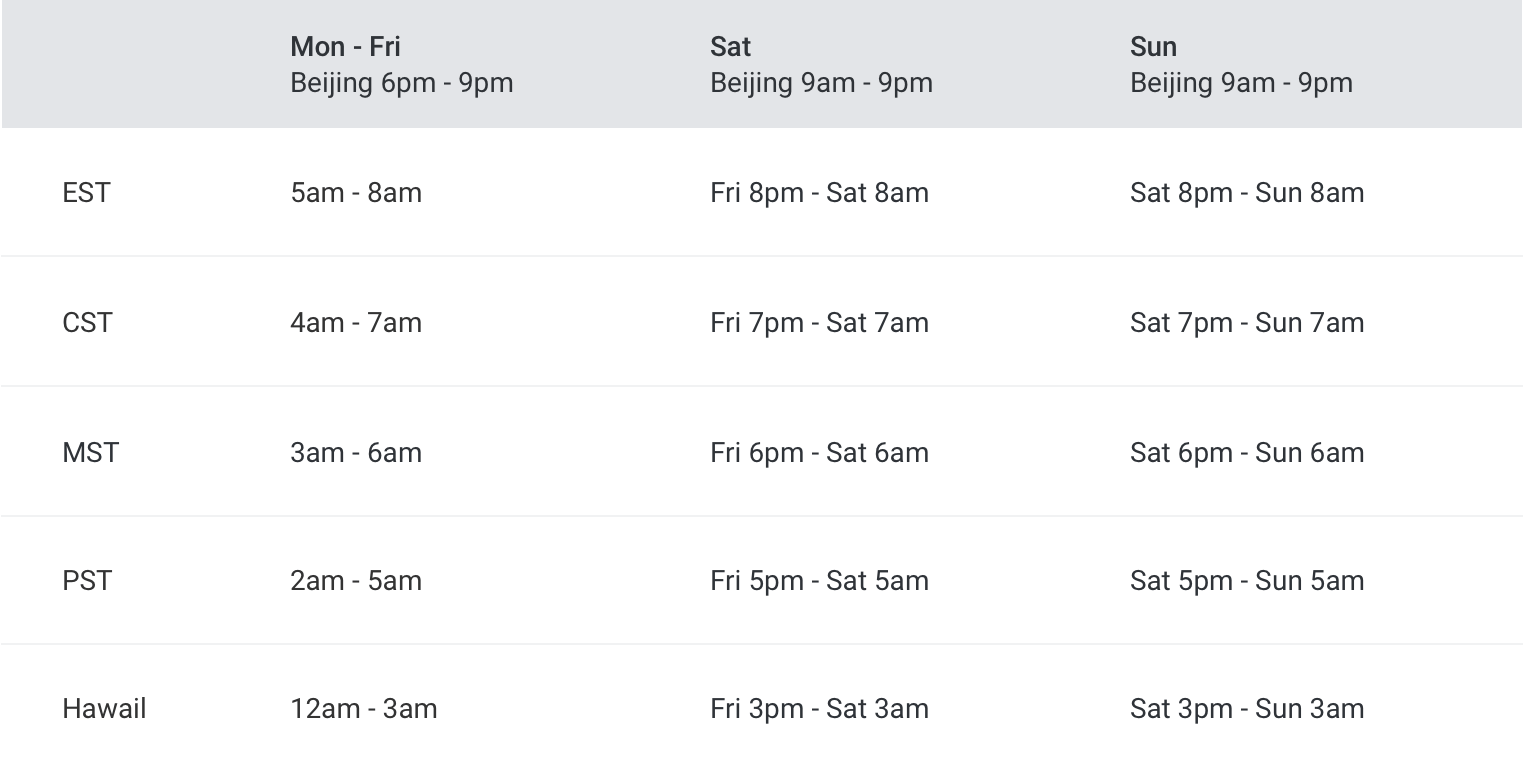 VIPKid Pay
The base rate of pay is $7-9 USD per 30-minute session (or $14-18 USD per hour). However, teachers can actually earn up to $22 per hour with incentives. Your minimum pay will be determined by your demo class performance, while incentives are determined by your monthly class participation and completion.
This is how VIPKid's pay rate breaks down: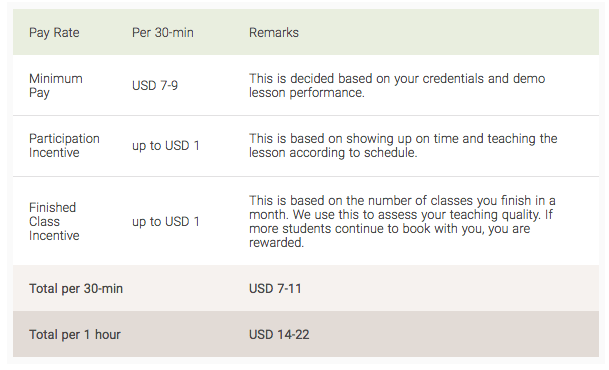 Other Benefits for VIPKid Teachers
Teachers can work, or not work, whenever they choose since there is no minimum hours requirement.
VIPKid also provides teachers with professional development options, such as workshops within the VIPKid platform to develop their teaching skills and local, in-person events and quarterly conferences.
What it's like working at VIPKid?
VIPKid Tutor, Lindsay Jubeck
Lindsay decided to teach English online with VIPKid after completing her TEFL contract in Asia. She describes her experience teaching online while traveling.
https://youtu.be/b3-ltvSh_4k
VIPKid Tutor, Rachel Story
Digital nomad, Rachel Story, teaches online with VIPKid while traveling in places like Mexico and South America (and blog about it on her website, Grateful Gypsies). We asked her to share some of the details of her position for those who are considering teaching with VIPKid Read the full article here.

The first reason VIPKid appeals to so many people is that it's a flexible job you can do from anywhere you have an internet connection. It's also pretty awesome that you can do the job so long as you have space and an internet connection.
Another awesome thing about this job is being able to take time off to travel or do whatever else you want very easily. It's very easy to schedule travel time around classes. For example, you could bust your butt one week, then take 4-5 days off to go on a short trip, then jump back into it.
We can't talk about VIPKid without mentioning the stars of the show – the VIP kids themselves. One of the best parts about working for them is all the adorable little emperors and empresses you get to meet. Before long, you'll start having regulars who book your class on a weekly basis.
At the end of the day, this is a pretty simple gig. Show up with your orange t-shirt on, load up the lesson, and spend 25 minutes cruising through it with one student. Working for VIPKid is also fun. You get to bring in toys and other props, make silly voices, sing songs, and play games.
What does VIPKid look for when hiring teachers?
In addition to the basic teaching requirements, VIPKid's Head of Community and Growth, Kevyn Klein, describes passion as a key quality in the teachers on the platform.
"The VIPKid Teacher Community is unique in that even though everyone comes from different walks of life, they are united by an enthusiasm for teaching and bridging connections with their students."
How do I get started as a teacher with VIPKid?
Visit the BridgeTEFL Job Board to apply to teach online with VIPKid. On the Job Board, you can also register to create a Teacher Portfolio, which will allow you to easily apply to VIPKid and other Bridge Preferred Partners.
The VIPKid application consists of 5 steps:
Fill out an online application form.
Complete your interview (or recorded Interview): A 30-min session where you showcase your teaching skills to a VIPKid recruiter (or record your demo lesson at your own time so that a VIPKid recruiter can evaluate you).
Watch videos to learn about the VIPKid technology, standards, and curriculum.
Practice-teach a full-length class with one of our VIPKid teachers.
Sign your contract, upload docs & complete a background check.
Ready to become a VIPKid tutor, working from anywhere in the world? Visit the BridgeTEFL Job Board to learn about this and other Bridge Preferred Partners.