We're celebrating 1K Trustpilot reviews! We'd like to give a big shoutout to all of our amazing alumni teaching around the world to support learners and the ELT industry. We've met so many talented global teachers throughout our journey and want to take this opportunity to say thank you to all who have shown us love and support over the years. You can get to know some of our gifted alumni by reading their stories below!
Joshua, from the U.S., teaching in Saudi Arabia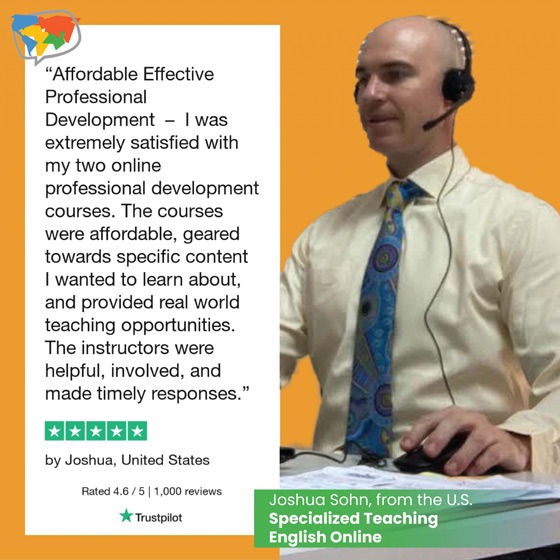 For Joshua, moving to Saudi Arabia meant a lot of major changes. Aside from adapting to a culture different from the countries he had previously lived in, his career also shifted to helping military personnel improve their English communication skills.
Find out how Joshua prepared to relocate to a new region and teach a different niche. He also discusses building rapport with ESL learners by incorporating their hobbies and interests into your lesson plans.
Ruth, from Uganda, teaching online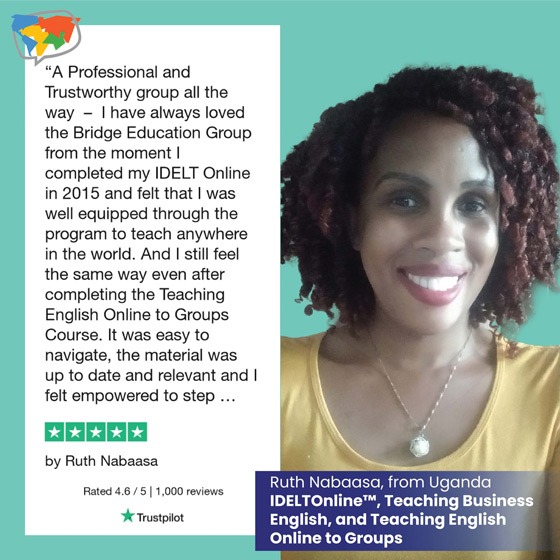 After running an English teaching program abroad, Ruth decided to get TEFL certified online with the IDELTOnline™ to boost her job prospects. She landed an online English teaching job and now enjoys teaching Business English to professionals around the world.
Learn more about Ruth's motivations for teaching English, the importance of getting TEFL/TESOL certified and continuing to take professional development courses, and her plans to step up her ESL teaching enterprise.
Ken, from the U.S., teaching in Colombia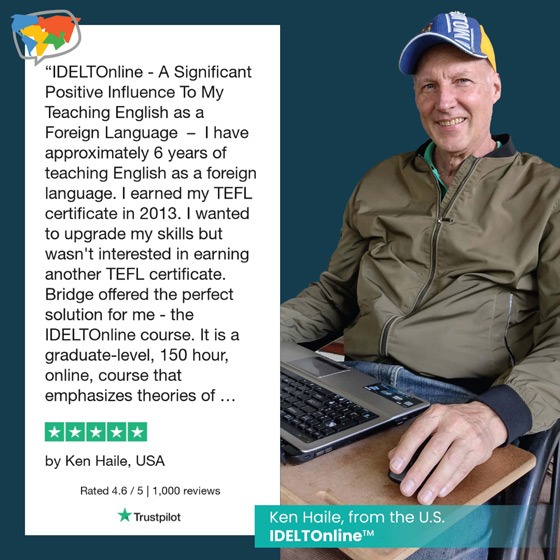 Ken's move to retire in Colombia has given him a chance to practice different languages, explore new landscapes, and thrive as an English teacher. After teaching in person in different academic institutions, he decided to become an independent online teacher and reach out to low-income learners.
Ken discusses his interest in studying different subjects and the activities that have kept him busy while in retirement in South America.
Margaret, from the U.S., teaching online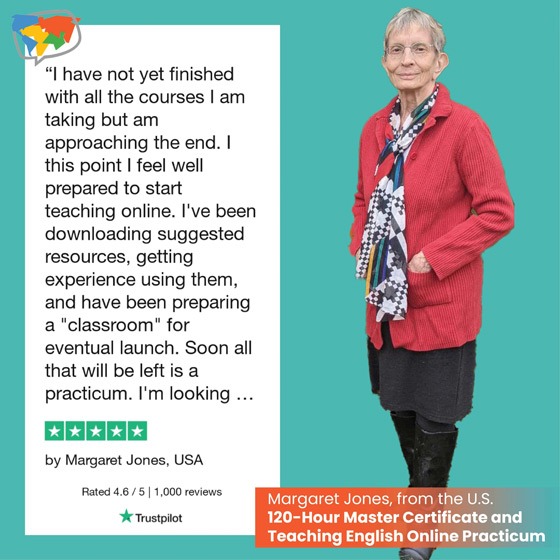 Margaret's computer programming skills have enabled her to switch to teaching English online more easily and also create a resource site for ESL teachers. Having started out as a volunteer, she's now expanding her student base, which is mostly based in South America.
Margaret recalls how certain life events steered her towards TEFL, how she chose to teach Business English, and the tools she uses to help learners improve their pronunciation.
Shella, from the Philippines, teaching in Taiwan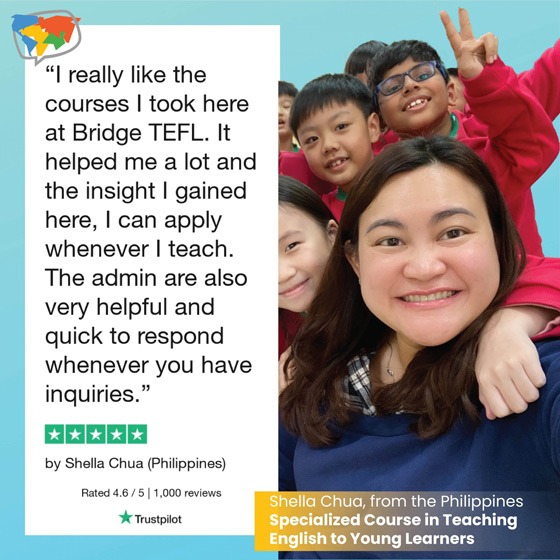 Although the pandemic hampered Shella's plan to teach English in China, an opportunity suddenly opened up for her in Taiwan. Having built her specialization in teaching young learners, she gives classes to primary students at an international school.
Shella shares her experience applying for teaching jobs overseas, how she adapted to teaching English virtually, and the digital apps that have helped her with class management and motivating learners.
Tonia, from the U.S., teaching online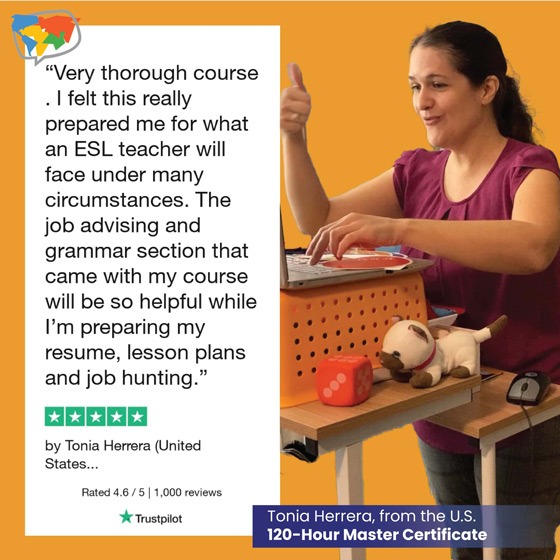 Having learned Spanish, Tonia knows what it's like to learn another language. This led her to teaching English online when she was looking for a job that would enable her to work from home. With teaching kids as her TEFL niche, she's currently working with various online ESL companies and as a substitute teacher in her local school district in Florida.
Tonia offers tips for getting qualified for different online ESL companies and discusses strategies, like using realia, for engaging young English students.
Hunter, from the U.S., teaching in South Korea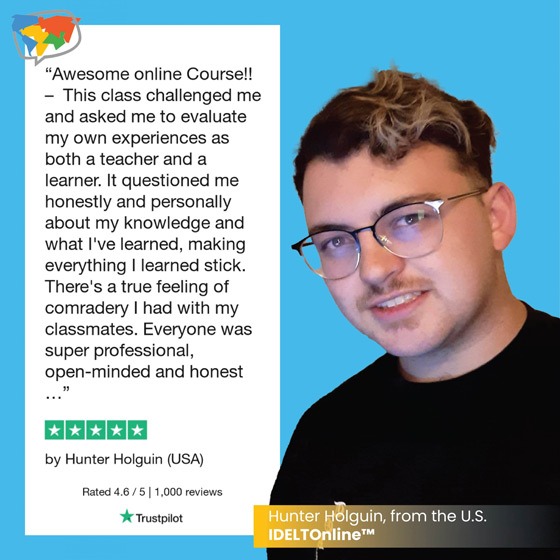 Years of traveling and meeting people from all over the world when he was young helped Hunter decide which profession he wanted to pursue. After getting certified with the IDELTOnline™, he landed an EFL position at an academy in South Korea, where he also hopes to grow professionally.
Hunter shares anecdotes about how he realized his potential to help language learners, how he developed his skills while getting started in teaching English to kids, and his experiences immersing in a new culture.
Luisa, from Brazil, teaching in the U.S.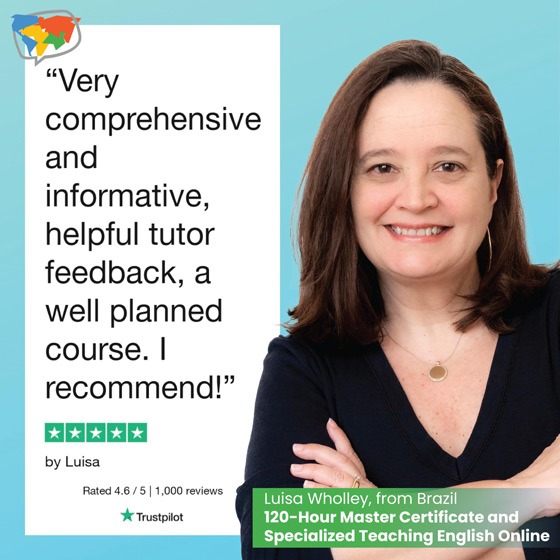 Luisa's fascination with the English language developed at an early age and opened many doors for her. After working as a translator, she moved to become an EFL tutor. When she moved to the U.S., she also started a business that offers Business English lessons, translation services, and life coaching.
Luisa details the similarities between working as a life coach and an English teacher as well as her strategies for finding potential learners.
Sithembiso, from South Africa, teaching in Japan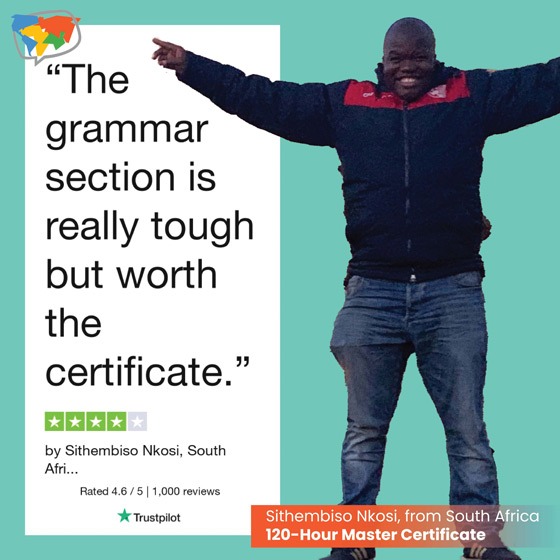 For the past decade, Sithembiso has had two main passions: teaching and soccer. After working as a physical education teacher and developing his own soccer program, he pursued his dream of traveling the world. The first step to this was getting into the JET program, which allowed him to teach English in Japan.
Sithembiso tells us about his work with intercultural organizations, how he seized the opportunity to teach English abroad, and how he plans to move his career forward while ticking off the countries on his bucket list.