Tackling Operational Challenges as a Freelance Teacher
By Maricela Breedlove
May 6, 2021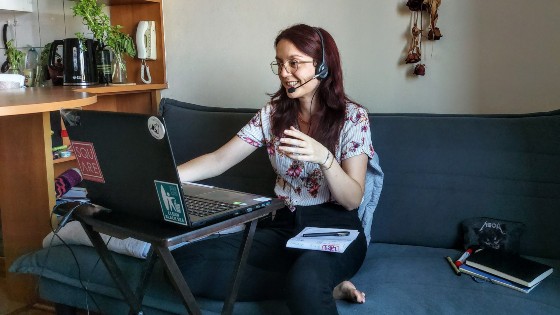 Being a freelance teacher can be both exciting and, at times, overwhelming. As a freelancer, there's much more to prepare than when you're working with a school or a company. Here, we'll show you how to handle operational challenges as a freelance teacher (like setting rates, creating policies, writing a curriculum, etc.) so that you're ready to set out on your freelance tutoring career.
You can learn all of the business and marketing skills needed to become an independent teacher in the Specialized Certification in Teaching English Online as a Freelancer Course.
Operational challenge #1: Setting rates and getting paid
One of the perks of having your own teaching business is being able to set and scale your hourly rates. English teachers usually charge by the hour, but your rate can change depending on how many students are in each class, the type of lesson you're teaching, and any special course packages or promotions you're offering.
It can be confusing to determine a good rate, which essentially should be one that isn't too high to discourage students from taking your classes but that's high enough to compensate you for your time and skills.
Find out more about setting your rates as a freelance English tutor.
Things to consider
Qualifications: Having a TEFL/TESOL certification, completing specialized courses or training, or earning a master's degree in TESOL provides you with the training and skills you need to teach effectively, and you can, therefore, charge a higher hourly rate.
Experience: TEFL/TESOL experience includes how many years you've taught but also relevant projects you've worked on and teaching or language-related achievements. The more experience you have, the higher your rates will be.
Find out how to get TEFL experience here.
Average hourly rates
Though it depends on where you live, your qualifications, and what subject you teach, new teachers in the online ESL field usually charge from $12 to $15 hourly. Teachers who are very experienced might charge up to $25 per hour or more.
One-on-one vs. group classes
While a fixed hourly rate works well for one-on-one classes, you can choose between either charging per person or collectively when you teach English online to groups. Generally, you'll earn more per hour when you teach groups, even if individual students are paying less than they normally would.
See how teaching one-on-one vs. group online English classes differs.
Specialized niches
You can, and should, maximize your earning potential by specializing in a teaching niche like Business English, technical English, or exam prep. Qualified online teachers who teach exam prep for the IELTS or TOEFL tests typically charge anywhere from $25 to $40 hourly. And private tutors who teach industry-specific English (for example, medicine, engineering, or hospitality) charge as much as $60 per hour.
Read more about finding your niche as a freelance online English teacher.
Offering promotional classes, packages, and trial classes
How do you deal with students who are eager to learn and are motivated to take your classes but can't afford your hourly rate?
You can offer course packages or promotions, which is a great way to get more students to sign up for classes. For example, you can offer a discounted price if a student takes a specific number of classes per week or month.
Another useful idea is to offer trial classes for free or at a discounted price. This is great for attracting potential students!
Find out how to make the most money as an online English teacher.
Choosing a payment platform
If you teach students in person, make sure you have a local bank account they can easily transfer money into, but if you're a digital nomad or teaching online, you can use an app like PayPal, Wise, or Payoneer. Use what's easiest for your students and what offers the lowest fees.
Operational challenge #2: Creating policies for refunds and cancellations
Class cancellations are an important factor in your pay, and you must have a solid cancellation or refund policy as a freelancer. You should establish rules as to the latest time that students can cancel or postpone a class without having to pay.
Managing your customers
How do you make sure you get paid in full and on time, every time?
Be up-front about company policies when students first sign up for classes. Review the payment schedule and method before they begin taking a course.
Make sure the payment method you choose is easy for students.
Be timely when it comes to sending invoices.
Try to have your students pay for classes up-front rather than after they've taken the course.
Refunds
You taught a class, but now a student wants a refund. What do you do?
This is a personal choice, but most tutoring and online learning platforms operate on a no refund basis, meaning that as soon as a service is rendered the way it was advertised, there will be no refunds. This will ensure that you are paid for your time.
Read more about how to manage cash flow as a freelance English teacher.
Cancellation policies
Very last-minute cancellations or a complete no-show can add up to big losses for you. So how do you make sure this doesn't happen to you and, if it does, that you are still earning money?
Here are some popular and effective cancellation policies to consider when establishing your own policy:
If the lesson is canceled with 24+ hours' notice, a full refund can be given.
If the lesson is canceled with less than 24 hours' notice, there will be no refund.
If a student doesn't show (and doesn't call or email), there will be no refund.
What if your student cancels a class with enough time to reschedule a new student? How do you get someone in at the last minute?
Send out an email or an alert on your chosen platform to your students informing them that you have a last-minute opening. To make this enticing to someone scheduling an extra class during the week, offer a small discount for the last-minute commitment. This will ensure you don't lose out on the opportunity to make any money at all.
Operational challenge #3: Scheduling
Creating an ideal teaching schedule is vital to your success as a freelancer. Coming up with a good schedule can help you earn more money, avoid mistakes that could lead to less students, and fit your business into your desired lifestyle.
Time zones and your lifestyle
Your lifestyle is such that you can't work regular 9-5 hours, or vice versa, you can only work 9-5. What are some solutions for finding your perfect teaching hours?
As a freelancer, you can pick and choose which country your students are from according to their time zone in relation to yours. Take into consideration that if you are working with children, peak teaching hours will be after school and on weekends.
Pro Tip: Research "peak hours" for popular ESL companies in the region you are looking to teach in, like China or South America. This will give you a good idea of when people take classes there!
If you have a preferred schedule you would like to stick to, would like to mix up your hours on certain days of the week, or just want to maximize your earning potential and teaching hours, consider teaching students in different regions in the morning and at night.
Staying organized
Don't overlook the importance of knowing your schedule. You never want to "double book," meaning arrange bookings from two students for the same day and time. You will potentially lose money and students if you do this.
To avoid double booking, consider grouping students by time zone or even teaching those groups on different days of the week.
Check out more tips for creating your ideal online English teaching schedule.
Operational challenge #4: Curriculum and class materials
Possibly the most challenging part of becoming a freelance online English teacher is creating your curriculum and deciding what and how you would like to teach. Below are some of the most important things you'll have to consider and acquire when beginning your freelance business.
Textbooks
You don't want to break the bank when first getting started, so what can you do when preparing for your lessons?
There are some ESL textbooks in PDF format that you can download for free, and there are many teaching resources online that offer free grammar worksheets, online games, and reading comprehension exercises.
So, now you're a little further into your career and are looking to invest a bit more money in textbooks and materials to help with your lesson planning. What are some good options?
Buying English textbooks, which usually come with both student and teacher versions, is a good investment since you'll likely use them over and over again. It will save you time when it comes to developing a curriculum, making lesson plans, and creating materials for the EFL classroom.
How do I begin planning a curriculum?
In order to prepare an effective and lucrative curriculum, you will have a lot of success if you take a course such as the 120-Hour Master Certificate. This will offer invaluable information on different ESL teaching methods, extensive training and tips on lesson planning, and impressive credentials that will make you a very desirable teacher for prospective students.
Equipment and materials needed to teach online
There are several things to consider when preparing for your lessons. This includes preparing a suitable teaching environment in your home or workspace, equipment, and materials you will use in class. Here some examples of things you might need if you teach online:
A reliable computer and Internet connection
Webcam
Headset/microphone
Teaching props (puppets, toys, realia, etc.)
Suitable workspace with little to no distractions
Operational challenge #5: Teaching platform
If you're freelance teaching English online, then you'll need to choose a platform in order to deliver your classes. You want to pick something that is easy for students to use, that is reliable, and that has the teaching features you personally need (video conferencing, a virtual whiteboard, screen sharing, etc.). Here are some of the top choices used among freelance online English teachers.
Affordable
Screen sharing available
You can record your lessons
You can annotate/give feedback during lessons
Not always "new user" friendly
Fast Internet connection a necessity to run smoothly
Will have to pay a fee in order to access 40+ minute video and other tools
Easily create teams within the classroom
A lot of integrative tools like a virtual whiteboard, document sharing, notes, and files all available on the one platform
Live support available
Not always "new user" friendly
Can be a little confusing to navigate
Mostly free to use (a premium account is needed to access some features)
Easily accessible to anyone with a Google account, which is also free to create
You can record your lessons with the premium option
Can only be used with a Google account
Works best on Google Chrome
Real-time translation available
You don't have to download software since you can access calls from your browser
Mostly free to use (have to pay for some features)
User-friendly
Not many integrative features
There are many behind-the-scenes elements to consider when it comes to starting your own freelance teaching business. Carefully making decisions about rates, payments, scheduling, equipment, platforms, and other operational factors can set your freelance teaching business up for success!