The Eternal Question: Online or Onsite TEFL Certification?
By Kelly Poindexter
October 7, 2017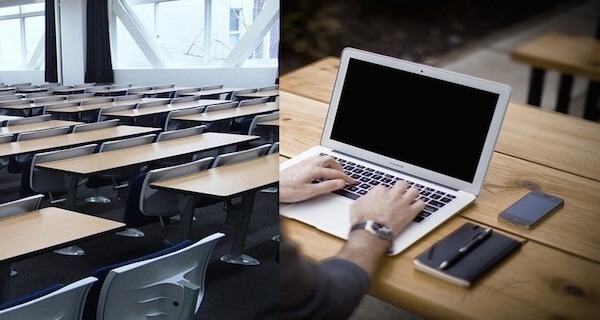 Here at Bridge, one of the questions that we receive daily from students is whether to take an online or onsite TEFL certification course. The answer isn't an easy one either; it depends on many factors, such as TEFL certification cost, where exactly you want to teach abroad, your current personal situation, and other aspects.
While we can give you all the boring facts, we think it's better to hear it directly from our grads, who have had to make the same difficult decision. So we've gone through our student interview archive and picked the best quotes to help us settle the battle between online and onsite certification courses.
Arguments For Online Certification Courses
Fact: Many students choose online courses for their flexibility.
Fernanda Uro Aboites
"One of the main elements that appealed to me was the fact that I could take it online, where I could control my own timing. Given that I currently work from 9 am 'till 7 pm, it was very difficult for me to go and take the course in a specific location (whether it was during the week or on weekends). So the fact that I could do it from a distance was one of this course's greatest assets.
I also like the fact that I can download every single document, video and virtual material that this course has available, so that I can review and use those materials any time I want."
Fact: Many countries prefer teachers with onsite certification, but Jennifer proved that neither her online certification, nor her age, was an issue in Russia.
Jennifer Hamblen
"I've heard from some that it's difficult to establish yourself if you're over 40. I began at 45 and haven't had that problem. Russian job classifieds often state "Only people from 22 to 30," so I was apprehensive, but being a native English speaker, I fulfill a niche that only a few can. Age didn't matter to me.
The biggest challenge was just getting started. Who am I to think I can teach after I complete an online course? I had my doubts. The very first school I called (the most prestigious in Saint Petersburg—hey, why not start at the top?), hired me. I began teaching the next day."
Fact: People often wrongly assume that online certification courses won't be as good as onsite courses. Erin found that that wasn't the truth.
Erin Coyle
"I chose the Bridge 100-hour TEFL/TESOL course, which includes the grammar component. I chose this one because it had the grammar component and I knew I would need a refresher course on grammar! Since I've never taught before, I figured the extra hours and course outline were better for me because I could learn a few more components from the course. I had a full-time job while I was doing this so the online course worked for me because it was flexible and I could work on my course at my pace and when it was convenient for me to study."
Arguments For Onsite Certification Courses
Fact: Onsite courses include teaching practice as well as support and guidance from tutors.
Caitlin Peterson, IDELT in Santiago, Chile
"My first impression (before the course had even started) was that I wouldn't have any trouble at all since I've been teaching some classes for a while now.  I was pleasantly surprised to learn that there were a lot of different teaching techniques that I didn't know about.  The course is challenging, but not too hard, and its structure makes it very easy to follow.  The assignments and tasks that are completed every day are fun and the techniques are definitely going to be useful in the classroom.  I love taking this course onsite because I get teaching practice with real students.  I feel like I can relate to them because I've also studied a foreign language and I know how hard (and sometimes frustrating) it can be! The two trainers are also great.  They've taken the course before and are there for support and guidance whenever we need it."
Fact: Taking a course onsite can make it easier to find a job in the country where you are.
Lauren Davis, IDELT in Buenos Aires, Argentina
"After taking the Bridge IDELT certification course in Buenos Aires, the staff where I got certified helped me get a job with an international advertising and marketing firm as their in-house English teacher. I worked about five hours a day, teaching staff of all English levels at the firm. This was kind of an unusual job to get in Argentina, since most people work for a language institute, or sometimes two different language institutes, and those institutes would contract you out to different companies."

Fact: Onsite courses are rigorous but rewarding.
Martin Higgins, CELTA in Colombia
"The CELTA course was a challenging four weeks but was also extremely rewarding. The long hours leave you exhausted by the end but the practical nature of the course makes it incredibly enjoyable. At International House in Bogotá, you teach on the second day of the course which, though daunting, means you learn very quickly."
Whether you decide an online or onsite certification is right for you, we suggest all future EFL teachers heed this valuable advice from Ikram:
Ikram Abdulmajeed, EFL teacher in Saudi Arabia
"First, be sure that teaching is something you are actually interested in and not just for the traveling benefits. Secondly, when choosing your destination, make sure to do as much research as possible about the future host country, to prepare yourself mentally. Thirdly, be content and know that there are sometimes huge gaps and differences in both teaching styles and culture, depending on the country. If you experienced a great lifestyle in one place and loved teaching a particular group of people, you might not have the same feelings once you move and start teaching elsewhere. So just be duly prepared for that and make an effort to learn the language of your host country, which shows respect and also gives you a chance to integrate better."
Still hesitant? It's a difficult challenge to face, but all forms of TEFL certification remit rewarding experiences that open your future to new perspectives, cultures, and people to help.