7 Reasons Why Teaching English Online as a Side Gig Is a Smart Choice
By Camille Turner
December 6, 2022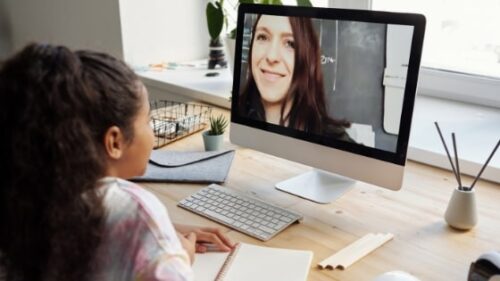 Teaching English online as a side gig has become an increasingly popular way for experienced teachers to make additional income during off seasons and slow periods. But, certified K-12 teachers aren't the only ones who can teach English as a side gig. With a laptop, an internet connection, some creativity, and a certification or two, anyone can start making money as an English tutor or instructor in their very own virtual classroom.
Is teaching English online a good side hustle?
Well, that depends entirely on what you're looking for. Are you looking for a part-time job that's engaging, flexible, and can be done from anywhere in the world? Are you looking for a way to express your creativity and have a lasting impact on your students? Teaching English online is also a great way to utilize technological skills while forming professional relationships and making a paycheck.
There are so many benefits of teaching English online as a side hustle, especially in a post-pandemic work environment. Professionals of all kinds are looking for ways to strike a better work/life balance while also preparing financially for the future. Part-time gigs and side hustles are a growing cultural phenomenon that is opening all kinds of doors for online employees and adventurous entrepreneurs.
Learn more about teaching English to adults vs. kids.
How can you start teaching English online as a side job?
If you're looking to take the leap, there are a few basics you need to be familiar with. Online English teachers typically either work with a company or choose to go independent. Let's break down these two options before we go any further.
Working with a company
If you work with a company, the pay rate and hours available to teach will vary from one company to the next, so shop around (you can browse jobs with online tutoring companies on the Bridge Job Board). Bear in mind that where the company is located (for example, Asia vs. Latin America) will be a major factor in the teaching schedule you can choose, so be sure to check out their "peak teaching hours" when reviewing job postings.
The nice thing about working with a company is that the students and teaching platform will be lined up for you, and, given your teaching qualifications, you could land on the high end of the company's pay scale.
Freelance online teaching
If you don't want to work with a company, you can still set your own schedule, as well as your hourly rate, by teaching online as a freelancer – either by posting a profile on a teacher marketplace or by starting your own business. The benefit of using a marketplace is that you'll have a company to manage things like transferring payments, but if you start your own business, you can have even more freedom and flexibility. Either way, your schedule can be extremely flexible and can be tailored to fit your lifestyle.
Should you teach English online with a company or work for yourself? Read this to decide.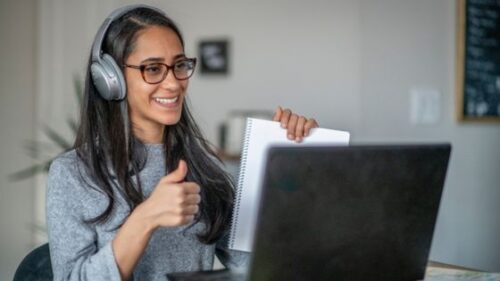 What are the benefits of teaching English online part-time?
There are a lot of reasons why teaching English online is a great side gig, but here are seven points to consider when giving it a shot.
1. Demand is high
With the worldwide shift to e-learning, the market for online English teachers has been booming, and new job openings with tutoring companies are cropping up every day. Whether you want to teach English online to adults or to kids, there are a variety of class types to choose from. With TEFL certification, you'll stand out even more among applicants who are looking to work through a third-party company. These companies for teaching English online part-time will manage clients, match you with classes, and help provide the resources needed to get your feet under you.
Alternatively, you can decide to become a freelance English teacher and seek out contracts, one-time offers, or tutoring clients that appeal to you. Leverage your online savvy to help you build a strong profile and attract more students.
2. Overhead is low
Whether you teach with a company or start your own online business, overhead costs are low. When working with an online teaching company, they'll typically give you a small list of required equipment. If running your own business is something that interests you, you can start an online tutoring business without breaking the bank by choosing where to splurge vs. save when you're first starting out.
While you could complement your virtual classroom with fun puppets and props or purchase software like ManyCam, which allows you to add special effects to your video feed, the essentials to teach English online are basic and low cost. At the end of the day, you need:
A computer
A stable internet connection
A webcam (if it's not built into your computer)
A quiet, distraction-free workspace
A headset with a good mic (it can be worth upgrading, even if your computer has this feature)
Since nearly everyone already has a computer (usually with a built-in webcam) and an internet connection, it's possible that the only thing you'll need to invest in is a good headset!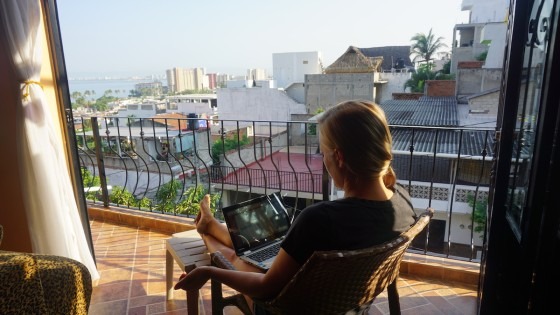 3. Scheduling is flexible (and sometimes you can set your own pay rate!)
Teaching online is one of the most flexible side gigs that exist! You can teach before or after work or on weekends, and you can ramp up your bookings during summer breaks or holidays if you want. Not only can you set your own schedule when teaching online, but sometimes you can even set your own pay rate as well. Say goodbye to cubicle life and hello to a remote office with a view.
4. Class sizes are small when teaching English online
Most K-12 teachers in American schools are used to working with large classes of 20 to 30 students. If you teach English online as a side gig, on the other hand, you'll most likely teach students one-on-one or in groups of up to four students. A small class size means you can deliver more individualized lessons and give more attention to each student. If you choose to be a freelance English teacher, you can decide how many students you'd like to teach at one time.
Learn about the differences between teaching one-on-one vs. group English lessons online!
5. You can leverage your unique experience and qualifications
The first step to teaching online is to decide how you'd like to teach. Once you know if you'd prefer working with a company or going solo, you'll need to tailor your online profile to appeal to your future employer or clients. As a side business for teachers, online instruction pulls directly from your classroom skill sets. Highlight the age groups you've worked with and instructional methods you've implemented in the past.
Skills like hosting Zoom meetings or creating PowerPoint presentations have a direct correlation to the work you'd be doing as an online English teacher as well. Volunteer work with kids or a tutoring gig you had a couple of years back can also bulk up your new online teacher profile if your teaching experience is a bit lacking.
Here are a few examples of related skills and experience you could add to your teacher profile:
Babysitting
Camp counseling
Coaching
Public speaking
6. You can earn qualifications as you go
One of the great things about teaching English online is that how much you invest in your career is entirely up to you. There are minimal start-up requirements, but if you'd like to earn more, retain clients, and take your pick of available gigs, there are numerous ways to boost your credibility in the industry.
Nearly all ELT companies will require formal TEFL certification of at least 120 hours, like the Bridge Master Certificate. If you want to stand out from other applicants and attract more private students as well, you can invest in professional development courses. For example, Bridge offers Specialized Certification in areas like Teaching Business English, so you can develop your ELT niche and earn more.
You can also take Micro-credentials, courses for short, targeted training in ELT subfields like Teaching IELTS Exam Prep and Teaching English Pronunciation. There are so many different paths you can take!
7. You can teach English online from anywhere
Speaking of going places, one of the biggest pros is that you can work from anywhere in the world! It also means that if you move, you can keep your side gig. Plus, you get to work from home. There's no easier commute than that! While there are pros and cons of teaching English online, freedom of movement (or staying right at home) is a major draw to those looking to pick up a side gig or become a digital nomad.
Teaching English online as a side gig is a fantastic way to grow your experience and make money while setting your own hours. All you need to get started is already at the tips of your fingers: a laptop, internet, and online TEFL certification!