11 Common Myths About Teaching English Online Debunked
By Krzl Light Nuñes
December 14, 2020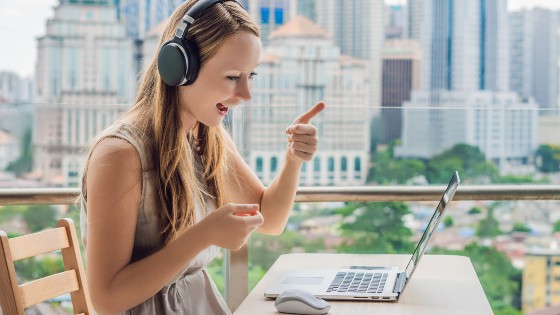 Have you been having second thoughts about breaking into online English teaching because of some concerning notions you've heard or read about the TEFL/TESOL field? If you're nodding yes, then you'll be interested to know that a lot of these beliefs are false. Let's debunk the most common myths about teaching English online and hear from teachers and members of the Bridge TEFL/TESOL Jobs and Teaching English Online groups on Facebook about misconceptions in the industry.
1. You have to be tech-savvy to teach English online.
Most new online English teachers work with an established company, which will likely have its own teaching platform and will train new tutors in how to use it. Most of these teaching platforms are user-friendly and intuitive, making it easier for both you and your students to use them.
As a freelance online English teacher, on the other hand, you may be required to have certain technical equipment and download apps like Zoom and Skype, but you don't need to be a tech genius. It's not difficult to learn the functions of the most common programs—like Microsoft PowerPoint or Google Drive—for presenting or sharing your content, either.
2. You need a lot of props to teach English online.
Some people think it's necessary to have a plethora of realia or teaching props in order to engage online English students, especially kids. Sure, showing a variety of objects in front of the screen sparks students' excitement, but the truth is that you can make a virtual class fun in many other ways, such as:
3. You can't build rapport with students online.
Teaching in front of a screen may not allow you to give your students a high five or a hug, but who says you still can't connect with them in a virtual classroom? In reality, there are a variety of ways to build a relationship with your online learners, whether you're teaching for a company or as a freelancer:
Get to know your students.
Tailor your online lessons to your learners' interests.
Praise your students for their achievements and give positive feedback throughout the class.
Smile and be energetic while teaching!
Get more ideas on how to build rapport when teaching English online.
4. ESL students don't participate a lot in an online English class.
An online class doesn't just have to consist of online students listening to a grammar lecture for an hour. There's the potential for a great deal of student participation in a virtual classroom if the teacher makes it interactive.
Most conference call platforms like Zoom, Skype, and Google Meet have features that enhance students' online English learning experience. For instance, you can share interactive games with students on-screen or split students into "breakout rooms" (a feature on Zoom) for small group discussions.
5. The quality of English teaching is lower in an online classroom than in a physical classroom.
Just because you're not teaching in-person or using physical books doesn't mean that your classes are not as good as when delivering lessons in a traditional setting.
Online English courses follow a curriculum and make use of recognized standards for measuring a language learner's progress, such as the Common European Framework of Reference for Languages (CEFR), just like in-person classes.
You utilize books and worksheets, show audiovisual materials, and use interactive activities in online ESL lessons. Even though materials are in a digital format, students are still learning and practicing English effectively and while having fun.
Additionally, you can still assign homework or offline tasks to students in a virtual setting.
6. You can't make a living or make a lot of money teaching English online.
This is one of the most common myths about teaching English online. Yet, whether you teach for a company or as a freelancer, your work as an online English tutor can be done as a side hustle or you can make it a full-time career. While your payout depends on the online school you're working for or the rates you set, it's not impossible to maximize your earnings or charge more by doing the following:
Add a specialization to your TEFL/TESOL certification to help you carve out a teaching niche as a freelancer. This could be a Specialized Certificate in Teaching Business English or Teaching Young Learners.
If you work with a company, teach during their peak hours, which are the times of the day when student bookings are at their highest.
Build more online English teaching experience. While you can teach English online with no experience, you can earn more money if you have previously taught online.
As a freelancer, it's recommended to increase your rates every one or two years.
In fact, many ESL tutors have successfully made a career out of teaching online. Check out the stories of Allie, a PalFish teacher from the U.S., and Carla, an independent online English teacher from Brazil.
7. You have to be a native English speaker to teach ESL virtually.
Similar to other common myths about teaching English online—like that you can't teach English online with no degree — many people think you need to be a native English speaker. Although being a native English speaker is required to qualify for a lot of job opportunities for teaching English online, it's not impossible to find online companies or schools that welcome non-native English speakers. Here are some of them:
Check out more options for teaching English online as a non-native speaker.
8. If you already teach English in a classroom, you'll use the same skills to teach online.
Having the know-how to give face-to-face classes is a great start if you're shifting to teaching English online, but it's also essential to equip yourself with other skills to deliver top-notch virtual lessons.
Aside from learning to use online teaching platforms and troubleshoot technological issues, you may need to come up with engaging and creative games and activities that work well with online classes and various age groups.
Pro Tip: Get a wealth of ideas for making your online classes more interactive and fun by taking short Micro-credential courses in developing digital and realia-based games and activities for young learners, teenagers, and adults.
9. You have to teach kids.
When you search for online ESL teaching jobs, the majority of the opportunities that turn up are in companies or schools that only cater to young learners. But, are there any that teach adults? Definitely!
If you feel that teaching kids is not your forte, no problem! Here are some companies where you can teach English online to adults:
Alternatively, you can also target adult students as a freelancer or when you work for an online marketplace.
Find out how you can attract and retain students as a freelance online English teacher.
10. You need to speak the language of your students.
If you teach English virtually to students from Chile, is it necessary for you to speak or learn Spanish? Certainly not.
Although being bilingual or knowing other languages helps you understand your learners' culture or their language struggles better, you're not required to speak your students' local language when you teach them. As a matter of fact, many online ESL schools have a stringent English-only policy to maximize students' learning and immerse them in English.
11. You have to work odd hours when you teach online since students are in Asia.
If you're hoping to teach English with companies based in Asia, like PalFish or GoGoKid, but you're not living in the same region, you may be worried about having to work early or late hours because of the time differences between you and your students. This is not always true, however, as it usually depends on where you're currently located and the company or school's class schedule.
Pro Tip #1: In order to avoid teaching at strange hours, determine the hours of the day you're most comfortable working, and find out if you can open slots for student bookings at the times you've selected.
Pro Tip #2: Aside from Asia, you can also find work in other regions in a similar time zone. For instance, if you're currently in the U.S., you can check out online teaching opportunities in Central or South America.
Read about the pros and cons of teaching English online.
Other myths about teaching English online: contributions from Bridge's online community members
Here are some other myths about teaching English online shared by members of the Bridge TEFL/TESOL Jobs and Teaching English Online (TEO) groups on Facebook:
Lana Kamatoy, Bridge TEO member, says: A false belief about teaching online is that it's for lazy people and that teachers who work virtually are those who were left with no other job option. They have no idea how adaptable, creative, and flexible English teachers are.
Mykola Domkin, from the Bridge TEFL/TESOL Jobs Group, says: Some people think you can't teach pronunciation in online ESL classes.
Don Pickerel, Bridge TEO member, shares: A myth about teaching English online is that it's just teaching English. It's so much more, as it involves sharing cultures, listening to things affecting the student, talking about future careers, and even helping students practice for job interviews.
Now that we've dispelled the most common myths about teaching English online, you can get started in this field. Get certified to teach English online, acquire the skills necessary to teach in front of a screen, and most importantly, don't let false notions stop you from building a successful career as a virtual ESL teacher.