The Dancing with the Stars Guide to Becoming a Great TEFL Teacher
By Lisa Rooney
December 11, 2012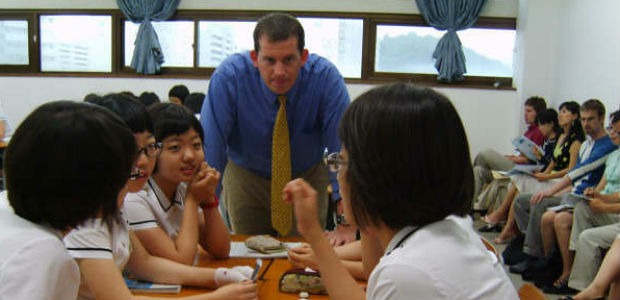 OK, so you are new to TEFL and you are feeling like one of the stars on Dancing with the Stars who has no clue how to dance, or in your case, how to teach English!  Here are 5 lessons to be learned from Dancing with the Stars to help you become a great English Teacher!
1. Pair up with a pro!
You know – like Derek or Karina.  You need to pair up with an expert to teach you the ropes! When teaching English abroad, try to make friends with a seasoned teacher who is willing to take you under his/her wings and mentor you.  This mentor can provide you with ideas, guidance and support as you begin your TEFL experience.  An experienced teacher can also help you to navigate the intricacies of a new culture, just like a dance teacher can help you to navigate a tango versus a waltz!
For more on this topic, see our article on building relationships as a new TEFL teacher. 
2. Choreograph your lessons!
That's right!  Each class you give is like a choreographed dance!  There is a beginning, middle and end with lots of carefully chosen moves in between.  There are also tricky transitions and of course stage appearance.  A teacher is always on stage and to give a successful class, you need to plan your lessons carefully.  Or did you think that your students would magically master mind-boggling modals on their own?
3. Practice, practice, practice!
Yes, like dancing, teaching English also takes practice.  Don't get discouraged if you don't master the art of teaching on the first try!  You will go through a lot of trial and error until you at last feel comfortable with your skills. Look at the couples on dancing with the stars – they rehearse many times before performing each week!
4. Put on your best performance!
Yes, indeed! Each time you teach, you perform.  So, put on your best show!  Show confidence, have fun, smile!  But most of all, know your stuff.  Your audience, your students, are expecting it! And, if you can be entertaining at the same time, you may even get a round of applause!
5. Listen to the judges' feedback!
OK, so you may not get all 10s right away, but that is part of the learning process.  Len Goodman may be tough, but when the dancing stars listen to his feedback and make changes based upon it, they do better and better!  So, when your supervisor is observing one of your English classes, welcome it!  You will surely receive some great advice on how to improve your teaching.
Get more professional development tips at TEFLOnline.com!