TEFL Stories: Dance, Dance Evolution!
By Bridge TEFL
October 16, 2012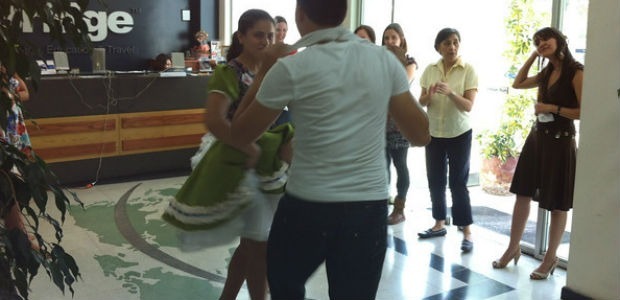 This post was written by Matthew Clark
If you know me, you know I didn't use to like to dance.  Ask anyone—dancing and I were like oil and water or peanut butter and meatballs; we just didn't go together.  But all of that changed the night I won a dance contest.
Students in Ukraine celebrate выпускной вечер, first a ceremony, then a dinner and dance commemorating graduation from high school.  The guys wear suits and ties, the girls elegant gowns and elaborate hairstyles.  This evening is on par with prom in the United States, though arguably even more meaningful—classmates "meet" the dawn of the next morning as one collective, a symbolic entry to their adult lives.
I was honored to receive an invitation to this event (not every teacher in the school is invited), and greatly enjoyed the ceremony and the beginning of dinner.  However, as the meal progressed, the emcee, in typical Ukrainian fashion, began engaging the audience in some light party games.  Ruslan Pavlovich, the shop teacher that did not speak English was called upon to lead everyone in the singing of "Happy Birthday", Elena Vladimirovna and Yulia Nikolaevna competed in a balloon popping competition (no use of hands allowed, just their derrieres).
Suddenly, I was pulled from my chair, a hat was thrown on my head, I was given a small, toy guitar, and told I would be performing a duet with the principal (a young, energetic favorite of the students).  The next 4 minutes are still sort of a blur.  The principal and I shared turns dancing and lip-syncing as the duet progressed.  Luckily for me, she could work a crowd; I did my best and managed to muddle through.  Apparently we pulled it off–by the end of the dance a great chant of молодцы (Well Done!) broke out.  I'm certain I was grinning from ear to ear as we were presented with flowers.
Teaching abroad was pushing me to grow once again, and I had met the challenge.  Such moments in Ukraine were common, and it's through these moments I learned how to take myself less seriously, how to go with the flow, and how to give my best effort full knowing I might, and probably would, fail.   Being tested is rarely comfortable, but it's a great feeling knowing there are few moments that will make me as uncomfortable as that night in Ukraine.  Oh, and while I'm still not good at it, I now try to get my dance on at every opportunity.