Joshua Yardley – Germany/Indonesia
By Bridge
October 18, 2012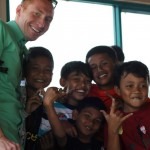 Where did you teach English?
I began as a freelance teacher in Germany, based mainly in Mannheim but I worked all over the southwestern region of the country. After three and a half years, I moved back to Chicago and taught at a private language school for nearly a year, also serving as the Instructional Supervisor. I started graduate school in 2009 in Southern Illinois, and during that time I volunteered as a literacy tutor for refugees at the International Institute of St. Louis. I also spent the summer of 2010 at a university in Cuernavaca, Mexico, as a visiting English professor. After earning my MA TESOL, I moved to Denver and became a teacher trainer at Bridge. There I worked with nearly 150 new teachers and helped them to find jobs abroad. Hearing their stories inspired me to once again look for jobs overseas, which is why I applied to become an English Language Fellow. I am now stationed in Banda Aceh, Indonesia working to prepare Indonesians for American universities.
How was your teaching experience life-changing?
I have probably learned more from my students than they have learned from me. Every person I meet in the classroom has a unique story to tell, one that is entirely different from my own. If I hadn't become a teacher, I would have never known what life was like for all of these individuals. Hearing their perspectives on the world has also helped me to understand my own outlook on life.
Why would you recommend that someone teach abroad?
In most cases, teaching English helps others to accomplish their goals and ambitions. You are making your students' lives better by giving them the tools they need to communicate in the global society. I have rarely felt anything so rewarding than hearing a student tell me that the skills they learned in my class have made their dreams come true.